Think of Newport Rhode Island and most people think of mansions. Beginning in the late 19th century through the early part of the 20th century, the Newport mansions served as the summer playground for America's wealthiest families. From the Vanderbilts to American tobacco heiress Doris Duke, the colossal Newport RI mansions were built as their summer homes overlooking the crystal blue waters of the Atlantic surrounding Newport. Here they spent just a few short weeks each summer, escaping the summer heat in the eastern cities of Boston, New York and Philadelphia. No expense was spared in the construction of these Newport mansions, and their grandeur lives on today through the efforts of the Newport Preservation Society and the Newport Historical Society. These mansions have become famous around the world for their decadence and grandeur while offering visitors a look into the lives of the richest people in America during the late 19th century.
Since the Newport mansions were created as summer retreats from the city heat, virtually all of them are not winterized and are open on a limited basis in the off-season. Some of the mansions are meticulously decorated for the holidays, and can make a trip to see them a truly magical experience. In the summer they host the annual Newport Music Festival, which features dozens of performances by solo artists to orchestras, making the mansions come alive with both the music of their time and contemporary artists. In addition the Newport mansions play host to a variety of other events, including the annual Newport Flower Show, the Wine and Food Festival, private events and countless Newport weddings during the course of a year.
To purchase Newport mansions tour tickets* or tickets for festivals held at the mansions each year, go to the Visitors Center on America's Cup Avenue, buy in person at the mansion, or in advance online at The Preservation Society of Newport County, where you can print your tickets on your home computer. *BECOME A MEMBER OF THE SOCIETY and get free admission to most mansion tours and special event pricing!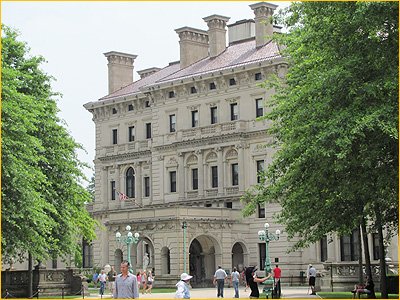 The Breakers Mansion
44 Ochre Point Avenue
Newport RI
(401)847-1000
VISIT WEBSITE
LOCATE ON MAP
The Breakers mansion was built in 1893 by Cornelius Vanderbilt II. Mr Vanderbilt commissioned architect Richard Morris Hunt to design a villa to replace the earlier wood-framed house which was destroyed by fire the previous year. Mr Hunt designed a 70-room Italian Renaissance-style palazzo inspired by the 16th century palaces of Genoa and Turin. The Breakers is often considered to be one of the most opulent Newport mansions and is a must see on your visit to Newport.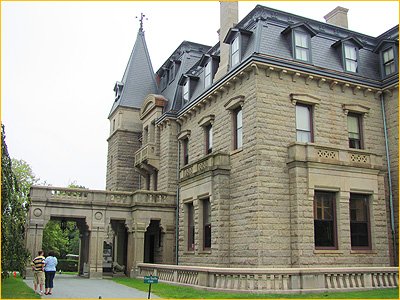 Chateau Sur Mer
474 Bellevue Avenue
Newport RI
(401)847-1000
VISIT WEBSITE
LOCATE ON MAP
The first Newport mansion on famed Bellevue Avenue, Chateau-sur-Mer brought about the beginning of the Gilded Age in Newport RI with its palatial victorian architecture and furnishings. Owned by a China trade merchant named William Shepard Wetmore, he died in died in 1862 and left the bulk of his fortune to his son, George Peabody Wetmore, and a generous allowance for his daughter, Annie Derby Wetmore. It was the scene of memorable entertainments, from the "Fete Champetre", an elaborate country picnic for over two thousand guests held in 1857, to the debutante ball for Miss Edith Wetmore in 1889. George Peabody Wetmore had a distinguished political career as Governor of Rhode Island and as a United States Senator. He died in 1921 and his wife in 1927. They had two daughters and since neither of them ever married, the Preservation Society purchased this Newport mansion in 1969.
Chepstow
120 Narragansett Avenue
Newport RI
(401)847-1000
VISIT WEBSITE
LOCATE ON MAP
An Italianate-style Newport mansion, Chepstow was built in 1860 and contains the original furnishings with important 19th century original paintings adorning its walls. This Newport RI mansion served as a summer residence to Edmond Schermerhorn and was eventually acquired by Mrs. Emily Morris Gallatin in 1911. The mansion was kept in the Morris family until bequeathed in 1986 to the Preservation Society, with its collections intact and an endowment by Mrs. Alletta Morris McBean.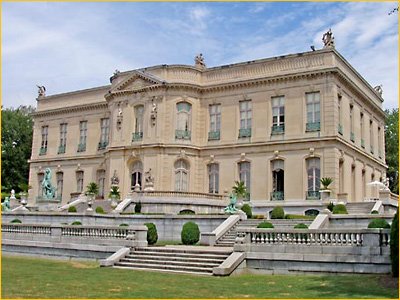 The Elms Mansion
367 Bellevue Avenue
Newport RI
(401)847-1000
VISIT WEBSITE
LOCATE ON MAP
The Elms mansion was the summer residence of Mr. and Mrs. Edward Julius Berwind of Philadelphia and New York. Mr. Berwind made his fortune in the Pennsylvania coal industry. In 1898, the Berwinds engaged Philadelphia architect Horace Trumbauer to design a mansion modeled after the mid-18th century French chateau d'Asnieres (c.1750) outside Paris. The interiors and furnishings of this Newport mansion were designed by Allard and Sons of Paris and were the setting for the Berwinds' collection of Renaissance ceramics, 18th century French and Venetian paintings, and Oriental jades. Just a short walk from the center of town, this is one of the easiest Newport mansions to get to on foot.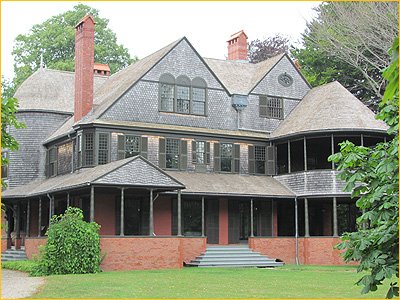 Isaac Bell House
70 Perry Street
Newport RI
(401)847-1000
VISIT WEBSITE
LOCATE ON MAP
Built in 1883 for Isaac Bell, a wealthy cotton broker and investor, this mansion displays one of the best surviving examples of shingle-style architecture in the country. It is a combination of Old English and European architecture with colonial American and exotic details, such as a Japanese-inspired open floor plan and bamboo-style porch columns. The exterior of the house has been extensively renovated and interior restoration work is continuing. The house is presented for tour as a work in progress.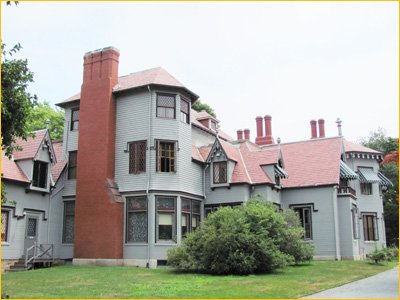 Kingscote
253 Bellevue Avenue
Newport RI
(401)847-1000
VISIT WEBSITE
LOCATE ON MAP
Kingscote, built between 1839 and 1841, is a classic Newport RI mansion and landmark of the Gothic Revival style in American architecture. Kingscote is considered to be one of the first of the summer cottages to be built in Newport starting during what was known as "the cottage boom". In 1893 a man by the name George Noble Jones commissioned architect Richard Upjohn to build his cottage. At the outbreak of the Civil War, Jones and his family left their Newport RI mansion and never returned. It was sold and eventually left to a man by the name of David King who had the cottage enlarged. Today it is a rare example of a Gothic Revival house and landscape setting preserved intact with original family collections.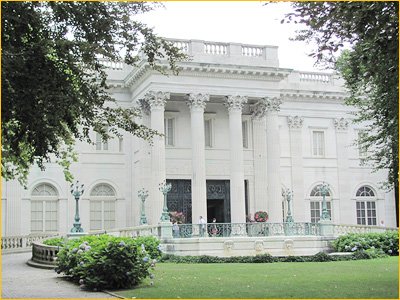 Marble House
596 Bellevue Avenue
Newport RI
(401)847-1000
VISIT WEBSITE
LOCATE ON MAP
This opulent building is clearly one of the most famous Newport RI mansions. Living up to its name, this "summer cottage" used 500,000 cubic feet of marble in its construction by the Vanderbilts. William L Vanderbilt had this mansion designed and built as a birthday present for his wife's 39th birthday. He was also the brother of Cornelius II who owns the Breakers. The house was also designed by the architect Richard Morris Hunt, inspired by the Petit Trianon at Versailles. The cost of the house was reported to be around $11 million, of which $7 million was spent on 500,000 cubic feet of marble. This Newport RI mansion was a social and architectural landmark that set the pace for Newport's subsequent transformation from a quiet summer colony of wooden houses to the legendary resort of opulent stone palaces.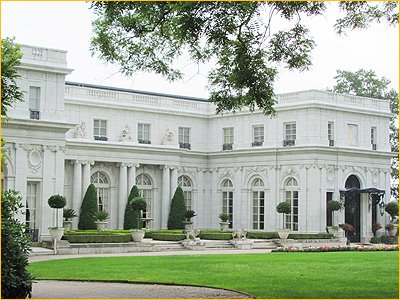 Rosecliff
548 Bellevue Avenue
Newport RI
(401)847-1000
VISIT WEBSITE
LOCATE ON MAP
Commissioned by Nevada silver heiress Theresa Fair Oelrichs in 1899, architect Stanford White modeled Rosecliff after the Grand Trianon, the garden retreat of French kings at Versailles. After this Newport mansion was completed in 1902, at a reported cost of $2.5 million, Mrs. Oelrichs hosted fabulous parties here, including a fairy tale dinner and a party featuring famed magician Harry Houdini. This tradition continues on today with many wedding and social events taking place inside and on the grounds of the mansion. In addition, many Hollywood films have been shot on location at Rosecliff such as the Great Gatsby, True Lies, Amistad and most recently 27 Dresses.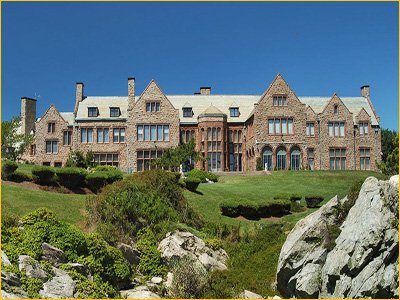 Rough Point
680 Bellevue Avenue
Newport RI
(401)849-7300
VISIT WEBSITE
LOCATE ON MAP
Former home of American tobacco heiress, Doris Duke. It sits majestically atop a rocky outcropping at the end of Newport's famous Cliff Walk and has beautiful ocean vistas from just about every room. The stunning oceanfront Newport RI mansion still maintains the look and charm as when it was occupied by Ms. Duke, including personal items and original furnishings. One of the area's most remarkable collections of private art. A truly astounding display of wealth in one location. A must see while visiting Newport RI.
To purchase Rough Point mansion tour tickets, go to the Visitors Center on America's Cup Avenue, buy in person at Rough Point, or in advance online at The Newport Restoration Foundation. NOTE: This mansion is one of a few attractions in Newport including Whitehorne House and Prescott Farm in Middletown that is NOT run by the Preservation Society.