Planning on getting married in Newport RI? Whether you want an intimate wedding on the beach or a grand affair with hundreds of guests at an oceanfront mansion, Newport offers an astounding array of options to complete any couple's dream wedding. Miles of beaches, waterfront venues with sweeping lawns down to the ocean's edge, endless photo opportunities and world-class services really make Newport the perfect place to get married.
Newport RI and its surrounding towns on the island feature churches of all faiths and denominations, making it easy to find a place for your wedding ceremony. From famous St. Mary's Church on Memorial Boulevard where Jacqueline and John F. Kennedy married to quaint churches on rural roads, a bride can find the perfect place to exchange vows with her groom. Of course, if you prefer to have your ceremony at the reception site, Newport's tent and equipment rental companies can prepare the perfect backdrop anywhere you want, from beach to sweeping lawns overlooking beautiful Narragansett Bay and Newport Harbor. For the adventurous, Newport's famous sailboats and schooners can even transform themselves into floating wedding ceremony and reception venues. Imagine exchanging your vows while sailing past Castle Hill lighthouse and enjoying a reception cruise under Newport's majestic bridge... a great way to commemorate your wedding day!
Featured Wedding Venue
Newport Marriott
25 America's Cup Avenue
Newport, RI
(401)849-1000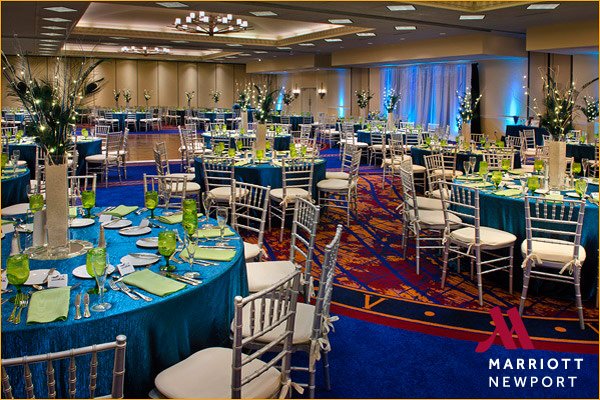 Perfect... that is what your wedding should be. We've invested over $35 million in a makeover for our elegant waterfront hotel to make sure your special day is just that. We offer a single venue for all of your wedding events. Enjoy harbor access for stunning photos. Experience newly appointed spacious bridal suites and nautically inspired guest rooms. Get ready in our full-service on-site spa. Gather with guests in our new greatroom lobby. Taste fresh seafood and savory cocktails in our new restaurant and outdoor terrace bar overlooking the harbor. We have everything you need for the perfect wedding.
You can get married in Newport just about anywhere, from an intimate courtyard on Newport's Historic Hill to a breathtaking mansion venue on Newport's famous Bellevue Avenue. The opportunities are truly endless, from horse-drawn carriages to stunning limousines for your arrival and departure, limited only by your imagination. Some of Newport's wedding venues are destinations unto themselves, and places like Belle Mer on Goat Island were created just for providing an amazing wedding experience with Harbor and the beautiful Newport bridge as your backdrop. Other wedding venues are function rooms in traditional hotels, allowing your guests to stay in one location for the entire event. Still other wedding venues can be found in some of Newport RI's most beautiful waterfront restaurants, offering guests unparalleled views of the Harbor and famous sunset.
For your catering, florist and photographer needs, Newport offers a wide array of choices to suit your tastes and the theme for your wedding and venue location. Many of these professional services maintain offices in town, allowing you to plan your wedding with ease when you visit. Specialty professionals also exist in Newport, from wedding and event planners to special concierge services for your guests while staying in town. They can help arrange things like harbor tours, mansion visits and other less-known adventures like sky-diving and kite-surfing at the local beaches.
Whatever you choose for your perfect wedding day, rest assured that your decision to get married in Newport will be one that enjoyed and remembered by all of your guests for many years to come....