There is probably nothing more quintessential New England than a bed and breakfast located in a quaint seaside village. Newport's landscape is dotted with these establishments, from small homes tucked away in historic neighborhoods to slightly larger establishments on the main thoroughfares throughout the city. Services range from a traditional room in a home to a private suite with bath and even some hotel amenities. The full range of offerings is enough to please just about anyone's tastes and preferences, from pillow and soap menus to afternoon tea and wine tastings. Whatever your choice, Newport RI has an eclectic assortment of beautiful properties from which to choose on your next visit.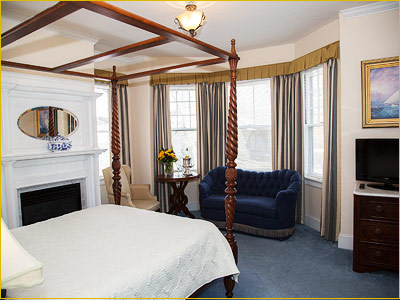 Almondy Inn
25 Pelham Street
Newport RI (800)478-6155
VISIT WEBSITE
LOCATE ON MAP
This elegant 1890's Victorian has been restored to its original glory and is located within walking distance of Newport's many fine restaurants, nightlife, antique shops, art galleries, boutiques, and near the various famous Newport Mansions and island beaches. It features five elegant guestrooms and suites, plus a NEW 2-bedroom 1400 sq ft Captain's Quarters suite, that are uniquely decorated with fine period antiques, private en-suite bathrooms – most with Jacuzzi baths – and some with bay views and a bedside gas fireplace. These spacious suites offer a separate living or dressing room for additional comfort and a true feeling of luxury. Gourmet breakfast served Friday, Saturday & Sunday. Continental breakfast served midweek in our dining room from 8:30 to 10:00 a.m.