Planning your dream wedding in Newport, RI can get quite expensive for many couples and their families. DestinationNewport.com is committed to helping you afford your wedding by offering specials and deals in cooperation with the wedding vendors that help make this wedding resource such a great success. Just contact any of these vendors and mention DestinationNewport.com, and you will automatically get any deals that are listed below. It's our way of saying thanks for relying on us to provide you with the finest wedding vendors in Newport!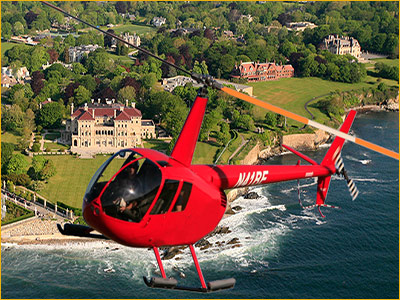 Bird's Eye View Helicopters
Newport Airport / Colonel Wood Airpark
Middletown (401)843-8687
VISIT WEBSITE
LOCATE ON MAP
Experience Newport like you've never imagined, from the seat of a helicopter flying over the beaches, mansions and harbors throughout Aquidneck Island. NOTE: 3-passenger capacity each tour.
DESTINATIONNEWPORT.COM SPECIAL- Book helicopter tours for your wedding party (min 9 seats), and the bride and groom get a private island tour for FREE!