Boating & Water Sports
Sailing & Fishing Charters
12 Meter Charters
49 Bowen's Wharf
Newport, RI
(800)820-1223


Corporate and private charters from groups of 2 to over 100 people! Enjoy corporate outings, family gatherings, private excursions, wedding events and sunset sails aboard our fleet of 12 Meter boats!


Full interactive team-building racing regattas can be arranged with 2 to 10 America's Cup 12 Meter yachts.


Specially-priced group sunset sails available


Daily 2-hour Harbor Sails priced at just $73/person!


NO sailing experience is necessary!
Sailing & Charters
Newport, RI is considered the sailing capital of the world and was the home of the America's Cup for many years. Many of these America's Cup boats are still docked in Newport harbor and offer visitors a unique sailing charter opportunity. While cruising around the harbor, Narragansett Bay, and the ocean waters off Castle Hill, you will see a tremendous variety of sailboats and motor yachts from all over the world. With such a proliferation of classic vessels in the water, sometimes it seems as if you are in a floating museum of sailing history. If you get an opportunity, get on a boat of any type for an unforgettable view of Newport and the surrounding islands.
Harbor Tours and Charters
---
Featured Sailing Charter Companies
America's Cup Charters
360 Thames Street
Newport RI (401)849-5868


America's Cup Charters offers the largest fleet of America's Cup Winners in the world. Race, train or just relax aboard our legendary 68' classic 12 Meters. With over 20 years in operation, we excel in planning custom programs for our clients; be it teambuilding, client entertaining, regatta racing or family celebrations. Sunset and afternoon 2-hour ticketed sails are also available leaving from downtown Newport. Charter 401-849-5868. Ticketed Sails 401-846-9886.
---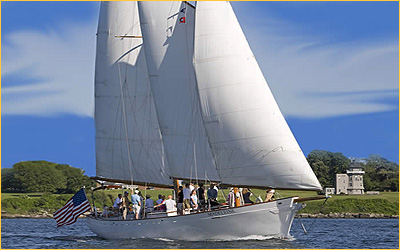 Classic Cruises of Newport
Christie's Landing
Newport RI (401)849-3033


Get on board with Classic Cruises to enjoy breathtaking sailing with spectacular views of Newport Harbor, Narragansett Bay and all the excitement of the Sailing Capital of America. They offer sailing tours and excursions on their 72' Schooner Madeleine. The sailing yacht Madeleine offers 19th century charm and style as you cruise the bay during daily harbor cruises, sunset sails, or for a special event/wedding. They also offer high-speed motor yacht tours on the classic speedboat RumRunnerII, bringing the intrigue and luxury from her smuggling days to your day as you cruise the waterfront. A great way to spend a sunny day in Newport!
---
Yacht Quintessence
71 Beacon Street
Jamestown, RI 02835
401-423-0612


Just minutes from Newport, Captain Don Miller will let you take the wheel and steer Quintessence past Fort Adams and sail amongst the classic yachts from Newport Harbor. Sailing the coast, punctuated by picturesque seaside castles and villages, Quintessence will pass silently by while you bask in the splendor of quaint New England charm. Available for half day and full day sails in and around Newport, Narragansett Bay and its surrounding towns with fishing villages and seaside restaurants. Have a special request, just ask!
---
Top Cat, Alerion Express 38 Yawl
Southborough, MA (508)904-0749


Sail aboard a classic yawl in Narragansett Bay and beyond, for a sunset cruise, a day sail, or an overnight excursion. Learn to sail with seasoned teachers in the sailing capital of the world. Charters available out of Newport.
Sailing Instruction
---
Sail Newport
60 Fort Adams Drive
Newport RI (401)846-1983