General Boating Information for Newport Harbor and Narragansett Bay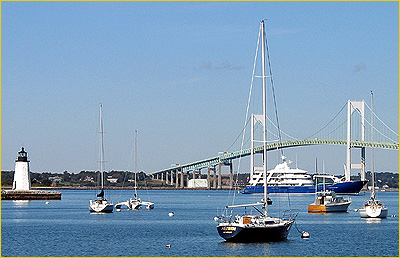 Newport's famous deep water harbor hosted the America's Cup for many years and its waters have been drawing people to its shores since the 1600's. Although Newport is best-known as a sailing center, the ocean and surrounding areas of the island it inhabits (Aquidneck Island) offer the outdoor enthusiast many options to explore. Middletown, Newport's next door neighbor, is home to beautiful beaches, unspoiled nature centers and wildlife sanctuaries. Close to shore, many visitors are amazed at the variety of marine creatures swimming just under the surface. During the summer months, the Gulf Stream brings tropical fish our way, and it is not uncommon to see these brightly-colored fish swimming around in the 70+° waters off Newport's shores.
Newport's climate is unusual for New England and very temperate due to the relatively consistent ocean temperatures from day to day. Because of this ocean effect, you can expect cooler than average temperatures in late spring and warmer than average temperatures from September until Christmas, extending our sailing & boating season well into October most years. And for the adventurous, "frostbiters" can be seen out on the water all winter braving the cold for the love of sailing.
Inside Newport's protected harbor, boating enthusiasts can enjoy kayaking and other small water craft that don't produce a significant wake. During the summer months, the harbor is often filled to capacity between dockage and moorings, and boating around the harbor to admire the yachts is a fun way to spend a day. Just beyond the harbor lies Narragansett Bay, a large expanse of protected ocean over which the Newport Bridge spans at a height of 215 feet above sea level. The enormous Newport bridge is high enough for most ships and sailing vessels to pass under, including navy ships which can be docked on the north side of the bridge. This area is what made Newport famous for sailing, since it provides the perfect combination of consistent light winds and low-chop to make sailing so enjoyable in Newport.
Venture out beyond Castle Hill peninsula at the south end of Newport, and the boater meets open ocean in Rhode Island Sound. Block Island and the northern tip of Montauk, Long Island New York lie to the southwest, while the famous islands of Martha's Vineyard, Nantucket and Cuttyhunk are less than a day trip each way to the south and east under good wind or power. Newport's proximity to all of these storied destinations makes it the ideal place from which to start your boating adventure in southern New England.
Newport's rich history in both sailing and boating in general has shaped the city in many ways, with its still-working wharves next to world-class dining and shopping. Newport truly embraces and reflects it's nickname, "the City by the Sea", through its maritime heritage and its architecture and monuments. Boating enthusiasts seeking great water conditions, visibility, depth and temperature will find Newport is a one-of-a-kind destination not to be missed.