Featured Newport RI Restaurant
White Horse Tavern
25 Marlborough Street
Newport, RI
(401)849-3600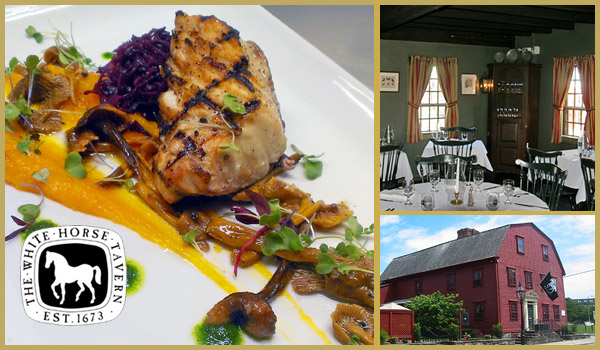 Newport has always been a great culinary destination. In recent years, many new Newport restaurants have opened, offering an amazing variety of options to suit any taste. With over 100 restaurants and bars around Newport RI, almost all within walking distance to each other, you could spend weeks just sampling all that Newport's restaurants have to offer. Because most people only get a few days to visit Newport RI, DestinationNewport.com has made it easier to find restaurants that fit your tastes and budget.
Logically, people visiting Newport often flock to the nearest restaurant serving fresh lobster and other seafood favorites. True, for someone visiting from some land-locked area of the country it can be a real treat to devour a fresh lobster caught in the waters off our New England coastline. But look a little deeper, and those seeking a real culinary experience can find it here in Newport. Newport has evolved into a type of birthing ground for new and unknown talented chefs, eager to make their mark on the culinary world. With the national campus of Johnson & Wales University Culinary School a mere 25 miles away, Newport attracts a multitude of newly minted chefs eager to use their new skills in a real restaurant setting.... and what better place than one of the finest culinary meccas in New England.
American or continental restaurants and pubs are plentiful here, and each is good in their own way. If you're dining with a group of friends, a pub or tavern atmosphere might be a good restaurant choice, or if you're looking to catch some of the game a sports pub might be on the restaurant agenda. There are also a good selection of small intimate restaurants in Newport with less than 30 seats where you can spend some time with a significant other or take a date. These smaller restaurants tend to offer the most innovative food selections and are a great way to explore different foods from around the world.
As far as ethnic restaurants go, Newport has a decent selection of food featuring authentic Mexican, Tex-Mex, classic French, Italian, Irish, Thai, Chinese, and Spanish dishes. Some restaurants in Newport have foods from many different cultures all in one spot. Take your time looking through their menus, and you'll find that regardless of what you seek, you will invetibably find it at a restaurant here in town.
So, on your next visit to Newport, after you indulge on your seafood, look around at the eclectic culinary scene happening in town. They may be a little off the beaten path, but definitely worth the extra effort!


A Note About Dress: Newport, RI restaurants are casual, and even some of the finest restaurants allow shorts. The few restaurants that are formal have been noted in their listings for your convenience.
Types of Restaurants You Can Expect to Find in Newport RI
American
Chinese
French
Italian
Modern/Eclectic

"Farm to Table"
Mexican
Irish
Bistro
Pub/Tavern