Newport, RI Mansions - Relive Newport's Gilded Age
Think of Newport Rhode Island and most people think of mansions. Beginning in the late 19th century through the early part of the 20th century, Newport RI served as the summer playground for America's wealthiest families. From the Vanderbilts to American tobacco heiress Doris Duke, colossal mansions were built as their summer homes overlooking the crystal blue waters of the Atlantic. Here they spent just a few short weeks each summer, escaping the summer heat in the eastern cities of Boston, New York and Philadelphia. No expense was spared in their construction, and their grandeur lives on today through the efforts of the Newport Preservation Society and the Newport Historical Society.

Here we've listed the main attractions found on Bellevue Avenue and surrounding streets. If you would like to learn more about any Newport RI mansion listed here, simply click on the more information button and a new window will open to view their website. When done, simply close the window to return to DestinationNewport.com. Happy touring!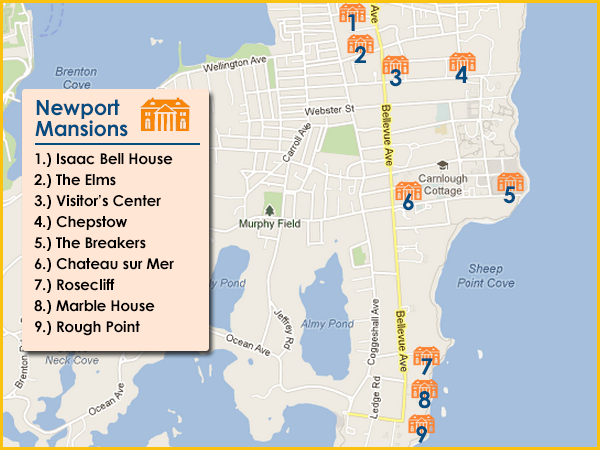 ---
The Breakers
Ochre Point Avenue
Newport RI (401)847-1000


The Breakers was built in 1893 by Cornelius Vanderbilt II. Mr Vanderbilt commissioned architect Richard Morris Hunt to design a villa to replace the earlier wood-framed house which was destroyed by fire the previous year. Mr Hunt designed a 70-room Italian Renaissance-style palazzo inspired by the 16th century palaces of Genoa and Turin. The Breakers is often considered to be the most opulent Newport RI mansion and is a must see on your visit to Newport.
---
Chateau Sur Mer
Bellevue Avenue
Newport RI (401)847-1000


The first house on famed Bellevue Avenue to be built, Chateau-sur-Mer brought about the beginning of the Gilded Age in Newport with its palatial victorian architecture and furnishings. Owned by a China trade merchant named William Shepard Wetmore, he died in died in 1862 and left the bulk of his fortune to his son, George Peabody Wetmore, and a generous allowance for his daughter, Annie Derby Wetmore. It was the scene of memorable entertainments, from the "Fete Champetre", an elaborate country picnic for over two thousand guests held in 1857, to the debutante ball for Miss Edith Wetmore in 1889. George Peabody Wetmore had a distinguished political career as Governor of Rhode Island and as a United States Senator. He died in 1921 and his wife in 1927. They had two daughters and since neither of them ever married, the Preservation Society purchased the home in 1969.
---
Chepstow
Narragansett Avenue
Newport RI (401)847-1000


An Italianate-style mansion, Chepstow was built in 1860 and contains the original furnishings with important 19th century original paintings adorning its walls. This home served as a summer residence to Edmond Schermerhorn and was eventually acquired by Mrs. Emily Morris Gallatin in 1911. The estate continued in the Morris family until bequeathed in 1986 to the Preservation Society, with its collections intact and an endowment by Mrs. Alletta Morris McBean.
---
---
The Elms
Bellevue Avenue
Newport RI (401)847-1000


The Elms was the summer residence of Mr. and Mrs. Edward Julius Berwind of Philadelphia and New York. Mr. Berwind made his fortune in the Pennsylvania coal industry. In 1898, the Berwinds engaged Philadelphia architect Horace Trumbauer to design a house modeled after the mid-18th century French chateau d'Asnieres (c.1750) outside Paris. The interiors and furnishings were designed by Allard and Sons of Paris and were the setting for the Berwinds' collection of Renaissance ceramics, 18th century French and Venetian paintings, and Oriental jades. Just a short walk from the center of town this Newport RI mansion is the most accessible on foot.
---
Isaac Bell House
Bellevue Avenue
Newport RI (401)847-1000


Built in 1883 for Isaac Bell, a wealthy cotton broker and investor, this home displays one of the best surviving examples of shingle-style architecture in the country. The exterior of the house has been extensively renovated and interior restoration work is continuing. The house is presented for tour as a work in progress.
---
Kingscote
Bellevue Avenue
Newport RI (401)847-1000


Kingscote, built between 1839 and 1841, is a classic Newport RI mansion and landmark of the Gothic Revival style in American architecture. Kingscote is considered to be one of the first of the summer cottages to be built in Newport starting during what was known as "the cottage boom". In 1893 a man by the name George Noble Jones commissioned architect Richard Upjohn to built his cottage. At the outbreak of the Civil War, Jones and his family left their Newport RI mansion and never returned. It was sold and eventually left to a man by the name of David King who had the cottage enlarged. Today it is a rare example of a Gothic Revival house and landscape setting preserved intact with original family collections.
---
Marble House
Bellevue Avenue
Newport RI (401)847-1000


Living up to its name, this Newport RI mansion used 500,000 cubic feet of marble in its construction by the Vanderbilts. William L Vanderbilt had this mansion designed and built as a birthday present for his wife's 39th birthday. He was also the brother of Cornelius II who owns the Breakers. The house was also designed by the architect Richard Morris Hunt, inspired by the Petit Trianon at Versailles. The cost of the house was reported to be around $11 million, of which $7 million was spent on 500,000 cubic feet of marble. This Newport RI mansion was a social and architectural landmark that set the pace for Newport's subsequent transformation from a quiet summer colony of wooden houses to the legendary resort of opulent stone palaces.
---
Rosecliff
Bellevue Avenue
Newport RI (401)847-1000


Commissioned by Nevada silver heiress Theresa Fair Oelrichs in 1899, architect Stanford White modeled Rosecliff after the Grand Trianon, the garden retreat of French kings at Versailles. After the house was completed in 1902, at a reported cost of $2.5 million, Mrs. Oelrichs hosted fabulous parties here, including a fairy tale dinner and a party featuring famed magician Harry Houdini. This tradition continues on today with many wedding and social events taking place. In addition, many Hollywood films have been shot on location at Rosecliff such as the Great Gatsby, True Lies, Amistad and most recently 27 Dresses.
---
Rough Point
Bellevue Avenue
Newport RI (401)849-7300


Former home of American tobacco heiress, Doris Duke. The stunning oceanfront Newport RI mansion still maintains the look and charm as when it was occupied by Ms. Duke, including personal items and original furnishings. One of the area's most remarkable collections of private art. A truly astounding display of wealth in one location.
---