Newport, RI is considered the sailing capital of the world and for very good reason: it possesses a very deep water harbor and consistent breezes year-round in its large harbor, Narragansett Bay to the north, and just off the south coast in Rhode Island Sound. These perfect sailing conditions and the focus of the sailing industry in America provided the perfect backdrop for the home of the America's Cup Races for many years. A good number of these America's Cup boats are still docked in Newport harbor and offer visitors a unique sailing charter opportunity, whether it be a private sailing charter or on a Newport Harbor sail cruise during the day or on a sunset sail with a little champagne.
While sailing around the harbor, Narragansett Bay, and the ocean waters off Castle Hill, you will see a tremendous variety of sailboats and motor yachts from all over the world. With such a proliferation of classic vessels in Newport's harbor, sometimes it seems as if you are in a floating museum of sailing history. If you get an opportunity, get on a boat of any type for an unforgettable view of Newport and the surrounding islands. Sailing in Newport, RI is something that everybody visiting the city of Newport should experience. The best times of the year to sail are in the early fall, when some of the Newport summer crowds have gone and Newport's ocean water is still very warm. Most days in September and even into October, you can go sailing with just a light jacket or sweatshirt and be very comfortable on the water.
Probably one of the best things about sailing in Newport RI is the fact that you will experience a completely different Newport than you will on land. From the water, you have unobstructed views of Newport's coastal mansions and homes, and can imagine Newport the way the first visitors did when they sailed into Newport Harbor for the first time. Out on the water, the din of the crowds, the smells of the restaurants and the busy summer activity of Newport fades away. Under sail in Newport Harbor all you will hear is the occasional flap of a sail or the splash of a wave against the side of the boat. Sailing offers a truly relaxing experience unlike any other and Newport has dozens of sailboats to explore from small 4-person boats to large 150-passenger replicas from the past two centuries. Sailing in Newport is an experience that every visitor during the warmer months of the year should definitely make time to put on their must-do list.
Featured Newport RI Sailing Charter & Harbor Tour Company
12 Meter Charters
12 Bowen's Wharf
Newport, RI
(800)820-1223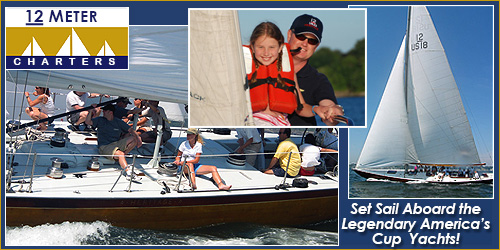 Daily 2-hour Newport RI Harbor Sails priced at just $73/person! NO sailing experience is necessary... just sit back and enjoy the views!
Corporate and private charters from groups of 2 to over 100 people! Enjoy corporate outings, family gatherings, private excursions, wedding events and sunset sails aboard our fleet of 12 Meter boats!

Full interactive team-building racing regattas can be arranged with 2 to 10 America's Cup 12 Meter yachts.

Specially-priced group sunset sails available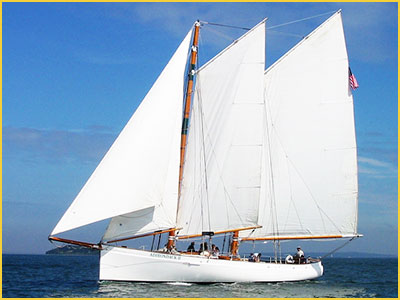 Schooner Adirondack II
23 Bowens Wharf
Newport, RI
(401)847-0000
VISIT WEBSITE
LOCATE ON MAP
Sit back, relax and take in the views as Adirondack II takes you on a safe and calm tour around Newport and its famous deepwater harbor. See Newport from a whole new perspective, with church steeples, mansions and sweeping lawns running down to the ocean's edge. A really fun experience for the whole family, regardless of age. Easy access for everyone.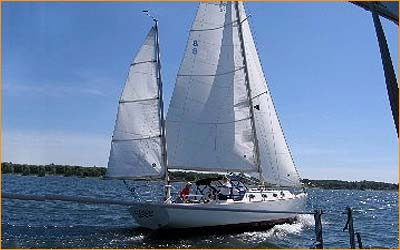 Top Cat, Alerion Express 38 Yawl
Southborough, MA (508)904-0749
VISIT WEBSITE
LOCATE ON MAP
Sail aboard a classic yawl in Narragansett Bay and beyond, for a sunset cruise, a day sail, or an overnight excursion. Learn to sail with seasoned teachers in the sailing capital of the world. Charters available out of Newport.