Although there are a good number of wedding and event caterers located in the city of Newport, there are scores of other area caterers that service Newport from other cities like Providence and beyond. That means you can choose from dozens of caterers for your wedding day or event. Many caterers even have local offices here in town, so you can visit multiple offices in a single day while planning your event.
Don't let the catering budget for your wedding or event deter you from exploring all the options. You'd be surprised at what the catering chefs can create with easy access to some of the freshest-caught seafood in the world. In addition, many farms surround Newport on Aquidneck Island providing catering companies with fresh farm-to-table ingredients. So let your imagination be your guide and your guests will leave your event wanting more of the delicious food you've provided for them.
Taking the time to choose the right caterer can really make the difference between a good event and a GREAT event. From casual clambakes on the beach to sushi and elegant sit down affairs, let Newport's top caterers make any event shine for you and your guests. Keep in mind that besides traditional event venues, caterers will go wherever they are asked, including yachts or boats, private estates, beaches and vineyards. You just name the place!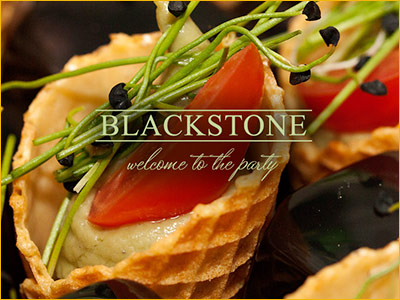 Blackstone Caterers
224 John Clarke Road
Newport RI
(401)848-2030
VISIT WEBSITE
LOCATE ON MAP
From a casual cocktail party to a formal wedding, Blackstone Caterers offers consistently top-notch food and unsurpassed service. Known for many events in Newport, Blackstone provides creative and unique menus with the backing of many years in the food service business. A great choice for your wedding or special event!