Many visitors are surprised when they realize that Newport's food scene is a destination in and of itself. In recent years, many new restaurants have opened, offering an amazing variety of options to suit any taste. With over 100 places to eat in Newport RI, you could spend weeks just sampling all that the city's restaurants have to offer. For a small city, you'd expect your options to be quite limited; but the exact opposite is true; and the best part is that they are almost all within walking distance of each other. The colonial port of Newport reflects the days of horses and walking as transporatation, and because of that houses and streets were tightly packed in a grid to provide easy accessiblity for its residents and businesses. It gives the city of Newport a very cozy feel, reminiscent of those in European villages.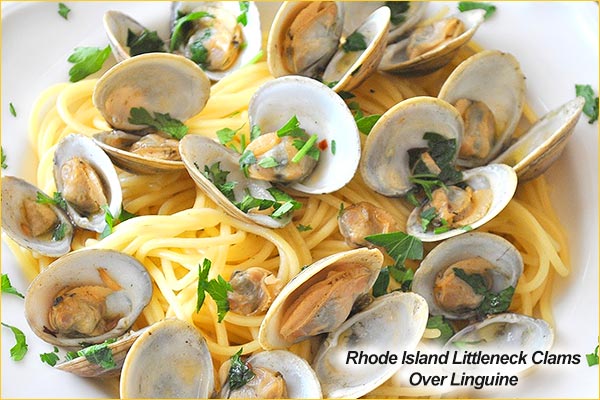 Logically, people visiting Newport often flock to the nearest location serving fresh lobster and other seafood favorites. True, for someone visiting from some land-locked area of the country it can be a real treat to devour a fresh lobster caught in the waters off our New England coastline. But cracking a lobster overlooking the blue waters of the Atlantic is just the beginning of what the Newport dining experience has to offer. Look a little deeper, and those seeking a real culinary experience can find it here. Dining here in Newport can run the gamut from downright cheap to luxurious 4-course meals and we'll guide you through all the options to fit your taste and budget.
American or continental restaurants and pubs are an easy choice for dining in Newport RI, and each is good in their own way. Newport has a couple delicious steakhouses as well, and you won't be disappointed by the excellent service you get accompanying your meal. We even have a hibachi steakhouse in town, where family and friends can gather around a big horseshoe table while your chef prepares your meal right in front of you! If you're dining with a group of friends, a pub or tavern atmosphere might be a good choice too, or if you're looking to catch some of the game a sports pub might be on the agenda. There are also a good selection of small intimate bistros in Newport with less than 30 seats where you can spend some time with a significant other or take a date. These smaller options tend to offer the most innovative food selections and are a great way to explore different foods from around the world. The ethnic mix of flavors at Newport RI restaurants offer specialties featuring authentic Mexican, Tex-Mex, classic French, Italian, Irish, Thai, Chinese, and Spanish dishes.
Breakfast & Brunch Dining in Newport
Depending on where you're staying in town, breakfast may be included with your stay, especially if you're inclined to stay at an inn or a bed and breakfast. Even so, you may be tempted to venture out and try the local breakfast scene when visiting town, and you won't be disappointed. From stainless steel diners to elegant brunch options on weekends, there are dozens of options to tempt your tastebuds on a morning search for delicious food.
⇒ More on Breakfast and Brunch
Newport RI's Best Lunch Restaurants
Lunch can be the most varied and interesting meal of the day, no matter where you are. If you're in downtown Newport, expect to find artisan sandwich shops, waterfront coastal fare and pubs. If you happen to be heading to the beach, out to a vineyard or out for a hike on the Cliff Walk or in one of Newport's nature sanctuaries, there are gourmet markets and plenty of sandwich shops happy to pack up a delicious lunch for you to enjoy al fresco.
⇒ More on Lunch
Casual Family Dining Choices in Newport
Don't think that just because you have children, you're stuck eating chicken nuggets and french fries. More than ever, Newport's dining scene has been accommodating families, offering kid-friendly meal choices. That means you can have your seafood dinner and the kids can grab a burger and fries. Choices range from pubs to classic continental American fare to waterfront seafood.
⇒ More on Casual Dining
Experience Newport's Upscale Coastally-Inspired Restaurants
The area has become known over the years as a fine dining destination in New England. Its proximity to some of the finest seafood in the world has inspired chefs to create seafood delicacies that can't be matched anywhere outside of coastal New England. Each year, new restaurants open featuring newly minted chefs from around the area like Johnson & Wales Culinary School. But that doesn't mean Newport has forgotten its history. One classic American tavern in town has been serving up fine dining in Newport since the 1600's, and as such fine dining runs the full gamut of styles and tastes.
⇒ More on Fine Dining
Plenty of Pizza Delivery and Take-Out Options
Being a tourist town, you can expect to find plenty of pizza and sandwich shops who'll deliver right to your door. Inventive pizza shops are opening around town, and that can really add a new dimension to standard pizza joints. Chinese food, the other ubiquitous delivery item, is readily available from various restaurants in the area. More importantly, just about every eatery in Newport will happily take an order over the phone for pick-up. This can really come in handy when you're just too tired after a day visiting mansions, shopping and exploring Newport.
⇒ More on Pizza Delivery and Other Take-Out