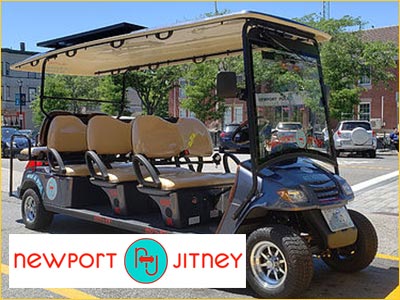 Newport Jitney
Newport, RI (401) 808-0181
VISIT WEBSITE
LOCATE ON MAP
NEW! Forget rideshares and taxi services that you have to wait and pay for each time you use them. The Newport Jitney service runs a continuous loop around Newport so you never have to wait! Just jump on our open-air jitneys where you want, and get off where you want. It's that easy and fun to make your way around Newport during the season!
Bike and Scooter Rentals in Newport, RI
Renting bikes and scooters in Newport is a good way to leisurely enjoy the sites around town and not worry about parking or traffic. Use the following link for rental listings.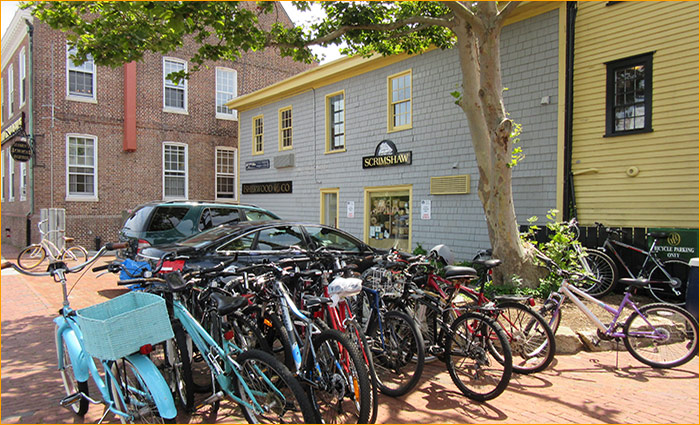 RIPTA (Rhode Island Public Transit Authority Bus Service)
RIPTA is the public transportation for RI and can be convenient for getting to/from Newport if you do not want the hassle of finding parking in the area. Since Newport is a colonial city, much of it was built long before the advent of cars. This can make parking a problem on busy summer weekends. Ample parking is available at the visitors center on America's Cup Ave, conveniently located as you enter Newport off the Newport/Jamestown Bridge.
See RIPTA's Schedule


While in Newport, RIPTA also offers a convenient trolley service, great for a scenic ride through the mansions, cliff walk, Bellevue Ave, and more. With frequent schedules and stops, it can be a very easy way to make your way around the city during your visit.
Cab Services in Newport, RI
Atlantic Taxi Service - (401)239-6600
Newport Pedi-Cab - (401)432-5498
daily / nightly service around downtown Newport during the warmer months
Orange Cab - (401)841-0030
airport shuttle available
Rainbow Cab - (401)849-1333
shuttles available to airport and train stations
Parking In Newport, RI
Public Pay Lot Parking The City operates 4 lots with public access available:
Meter Parking
Metered parking can be found throughout downtown Newport and by Easton's Beach. Rates are $2.00 an hour at the beach and $1.25 an hour downtown, using either debit/credit cards or change. There is a 3-hour limit on parking on on-street metered spaces downtown. The meters are operational from May 1 through October 31st, from 9am and 9pm in most areas. Pay and Display parking is available at Touro Lot and at Washington Square. These units act the same as regular meters, but also take credit cards, and require that a receipt be visible inside the windshield.
Metered Parking at Cliff Walk and Forty Steps
A Pay-by-Plate multi-space parking meter is located Narragansett Ave near the Forty Steps Restroom. Choose the number of hours you wish to park (up to 4 hours), enter your license plate number and deposit your payment (credit card, coins or dollars, $1.25 per hour). There is no need to return to your vehicle to put a receipt on the dashboard.
Residential Parking
Stickers for residents are available at the Collections Office. Starting in March you can purchase these with appropriate documentation. Sticker parking areas are noted with signs defining hours and areas affected. Most residential parking areas are available to the general public during the day but after 6pm, you must have a sticker/guest pass or your car will be ticketed. This program is in place to ensure that our city residents have a place to park their vehicles at night, near their residences. Sticker parking is in effect May through October. Many side streets are covered, so look for the signs.
Beach Parking
Beach parking is available for a daily parking fee from Memorial Day through Labor day, with rates posted at Easton's beach entrances. -->More Info On Newport RI Beaches
Free Parking
Various locations exist without meter parking, especially a block or more from the downtown areas. Spring Street is just one block up from Thames Street and offers many free parking spots. In addition, there is plenty of free parking along Wellington Avenue, which is just off the mid-way point of Thames Street across the street from the Shell gas station.
Towing and Snow Emergencies
If your car is missing, it may have been towed, especially if you were parked in a no-parking zone such as a fire hydrant or driveway entrance. All vehicle tows, whether the cars are towed by the police or a contracted tow company, are logged in a police log. To contact the Police Department Dispatch Desk and/or verify the tow log, please contact (401) 847-1306 and a clerk will assist you.