Think of Newport and most people conjure up images of mansions, dining and shopping. But Newport's breathtaking coastline and beaches offer up some of the finest recreational activities in New England. From Newport's famous Cliff Walk to hiking trails overlooking the beaches of Middletown, there truly is something for everyone here on and around Newport. Newport and its surrounding areas are home to championship golf courses, pristine nature preserves and plenty of family recreational activities. Kids will enjoy the skate park, carousel and aquarium at Newport's Easton's Beach while adults may enjoy a leisurely bike ride around Ocean Drive and stopping for a picnic lunch on the ocean. Whether you prefer leisurely or active recreation, Newport has an activity to suit your tastes and mood.
Featured Outdoor Activity in Newport RI
Block Island Ferry
Perrotti Park
Newport, RI
(866)783-7996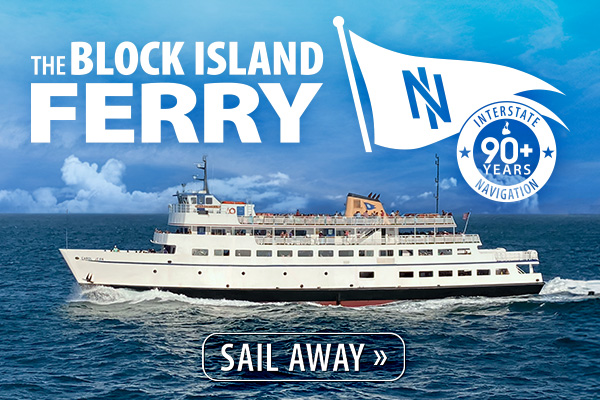 Block island and its beautiful unspoiled beaches is just a short high-speed ferry ride from downtown Newport
Daycations are a popular choice, and visitors to the island can depart from Newport or Fall River, MA to enjoy shopping, dining, hiking, biking or relaxing on the beach.
Transportation around the island is fun and easy! Choose to rent a bike or a scooter, or get around via taxi.
The ferry features a bar that serves their legendary Bloody Marys, great snacks and spacious and comfortable seating.
Don't miss a chance to enjoy the relaxed island lifestyle that is Block Island!
Average Newport, RI Temperatures

Month
Air
Temp
Ocean
Temp
January
38ºF
37ºF
February
39ºF
36ºF
March
46ºF
37ºF
April
55ºF
46ºF
May
64ºF
54ºF
June
73ºF
62ºF
July
78ºF
68ºF
August
78ºF
70ºF
September
72ºF
67ºF
October
63ºF
60ºF
November
53ºF
52ºF
December
43ºF
44ºF