A trip to the salon or spa can be the perfect way to relax before your big wedding day. Newport offers small independent spas and salons along with those inside hotels and resorts. Whichever you prefer, you can expect to find hair, nails, pedicure and manicure services along with some new and fun treatments. Newer, more innovative spas offer services like stone massage or even a circuit of services to make up a 3 or 4 hour visit. Nowadays, many of our spas and salons are under the same roof, and offer all their services together. Here we focused on the some of the best spas in Newport, so you know you'll be experiencing the best treatment and services available. As with any good salon or spa, it's always a good idea to make your reservations well in advance if possible.
Getting Ready For The Big Day
Newport's spas and salons have not only adapted to accommodating groups for weddings, many have designed their businesses around it. It's not just about hair and nails anymore, and today's bride wants their pre-wedding just as fun and exciting as the real thing. Whether it's massage services or relaxing with champagne and hors d'oeuvres during a calming aromatherapy session, you can count on the finest spa and salon services available to complete your special day.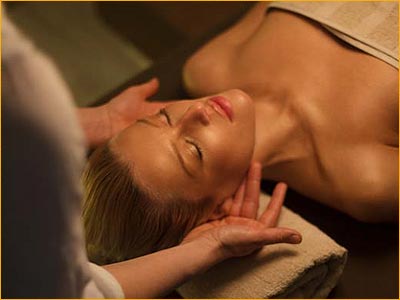 The Spa at Newport Harbor Island Resort
1 Goat Island
Newport, RI
(401) 851-3225
VISIT WEBSITE
LOCATE ON MAP
Along with this resort's signature spa offerings like french manicures and pedicures, the Spa pampers guests of all ages with facials, anti-aging body wraps, custom massages, scrubs and facial peels amidst a calm and serene spa setting. A great way to relax on your Newport vacation.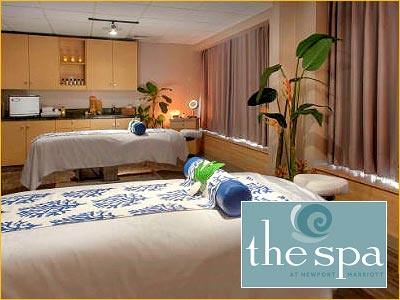 The Spa at Newport Marriott
25 America's Cup Avenue
Newport (401) 848-6983
VISIT WEBSITE
LOCATE ON MAP
A relaxing retreat awaits you. With the stresses of every day life, you deserve a little time to revive your mind, body and spirit. At this serene waterfront spa they take great pleasure in serving you because they believe you deserve it. Their licensed and trained professionals are there to offer a unique and uplifting experience that will leave you feeling revived. You'll find your senses enticed through massage, facials, body treatments, hair and hand or foot treatments. So whether you are spending the day or just a few hours, you'll be sure to leave feeling relaxed and rejuvenated. The Spa at Newport Marriott - tranquility by the sea.