Like breakfast, Newport has almost limitless options when it comes to lunch. For those on the go, there are plenty of delis and sandwich shops to grab a bite on the run, take to the beach or out exploring Ocean Drive. In-town diners will find everything from sushi to burgers and barbeque, all within a short walk of each other. And if you feel like an elegant lunch, enjoy a fresh lobster or sirloin salad with a glass of wine overlooking Newport Harbor. Whether your budget is $5 or $50, Newport's restaurants offer something for everyone.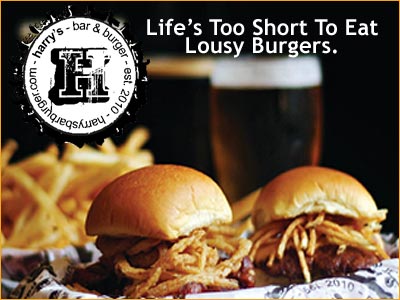 Harry's Bar & Burger
464 Thames Street
Newport, RI (401) 619-3617
VISIT WEBSITE
LOCATE ON MAP
This new family-friendly burger & bar is getting a lot of attention these days. Featured as the best burger in RI by AOL, CNN, Foursquare and Zagat, Harry's is an intimate burger bar with all the favorites that both you and your kids will love. Some featured menu items include sliders, chili, nachos, wings, along with lots of burgers and other sandwiches too! At the bar, enjoy your favorite beer or choose from a great selection of other fermented beverages. A must while in Newport with the family!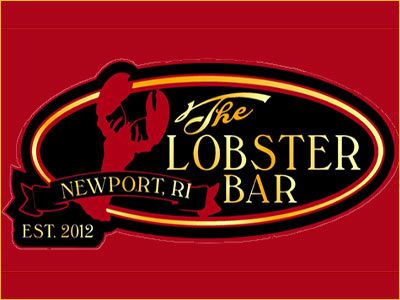 The Lobster Bar
31 Bowen's Wharf
Newport, RI (401)847-4514
VISIT WEBSITE
LOCATE ON MAP
How does the thought of having fresh lobster right on a working seafood wharf sound? This fantastic location gives 180 degree views of Newport Harbor and features nothing but fresh local seafood. Arguably one of the best views of Newport Harbor and true New England waterfront atmosphere. Also a great place to spend a relaxing afternoon with drinks and raw bar specialties!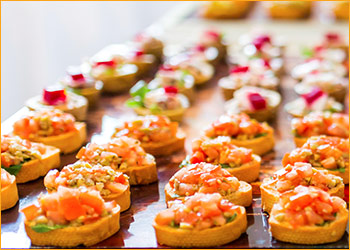 Taproot Brewing Company at Newport Vineyards
909 East Main Rd
Middletown, RI (401)847-5166
VISIT WEBSITE
LOCATE ON MAP
How about lunch overlooking the vineyard?The Taproot Brewing Company is part of Newport Vineyard's expansive tasting, restaurant and event center just 5 minutes outside Newport. The newly renovated restaurant features classic items, but also offers over 10 specialty salads and 4 varieties of soup every day! A great way to spend the day enjoying both the vineyard as well as an artisan brewhouse.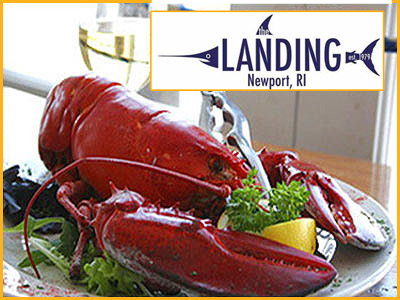 The Landing Restaurant & Bar
30 Bowen's Wharf
Newport, RI (401)847-4514
VISIT WEBSITE
LOCATE ON MAP
When nothing but the best waterfront views in Newport will do, The Landing is definitely the place. With a casual family restaurant atmosphere, The Landing has 4 separate dining areas(2 inside, 2 outside), an outside bar overlooking Newport Harbor and a varied menu from lobster to steak to clamcakes & chowder. Also available for private parties and rehearsal dinners.
Other Lunch Selections in Newport RI
The Black Pearl
Bannister's Wharf
Newport, RI (401)846-5264
A good year-round destination for lunch in Newport. Offers a large outside bar and seating area in the warmer months with a limited menu including chowder, chili, burgers and sandwiches. Inside you'll find a more expansive menu in the Tavern and Commodore's Room.

The Red Parrot
348 Thames Street
Newport, RI (401) 847-3800

Located at the heart of Newport, the Red Parrot has been a favorite lunch spot for many years. It's huge menu offers everything from tasty salads to sandwiches and main dishes. Great drink menu and bar too!

Smokehouse Cafe
America's Cup Avenue
Newport, RI (401)848-9800

If you've got a craving for some authentic barbeque, this is the place. This restaurant/bar is located right on America's Cup Avenue, a great spot to eat, drink and people watch in Newport. Open seasonally during the warmer months. Great food and fun atmosphere!

Brick Alley Pub
140 Thames Street
Newport, RI


Buskers Irish Pub and Restaurant
178 Thames Street
Newport, RI


Christie's Restaurant
14 Perry Mill Wharf
Newport, RI


41 North
351 Thames Street
Newport, RI


Griswolds Tavern
103 Bellevue Ave
Newport, RI