Featured Inn
Inns of Newport
27 Clarke Street
Newport, RI
(800)524-1386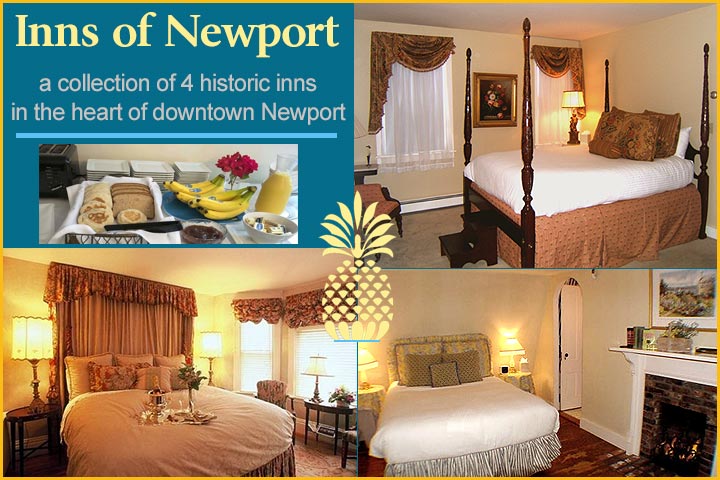 A selection of historic inns located in the very heart of Newport, just a couple blocks from downtown wharves, shopping, dining and nightlife.
Complimentary full breakfast served each day
Wood-burning fireplaces, wide plank floors and deluxe jacuzzis available
Complimentary on-site parking available
MIDWEEK SPECIAL - Dinner, room & breakfast for 2, $169 - Monday through Thursday (available at the Clarkeston, The Cleveland House and The Admiral Farragut Inn)


Whether quaint and cozy or large and steeped in history, inns can make your accommodations a real integral part of the total vacation experience. Newport RI has a great selection of beautiful inns, that range from large converted single family homes to large victorian estates featuring sweeping front porches, period furnishings and decadent gourmet breakfast service. Virtually all rooms feature a private bath, and some offer additional services as well. Many of Newport's inns are converted single family homes from the 18th, 19th and 20th century, letting visitors discover a part of Newport's history and charm. It can be an experience that you will treasure for many years to come.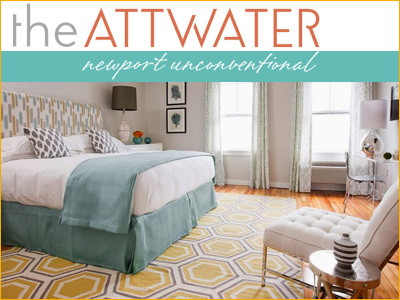 The Attwater
22 Liberty Street
Newport, RI (401)846-7444
1-800-392-3717
VISIT WEBSITE
LOCATE ON MAP
The Attwater offers a more personal lodging alternative to big box hotels - yet with a chic, modern edge elusive to most B&Bs. Guests find exceptional guestrooms; a clever, all-day coffee cafe; and attentive service when they want it (privacy when they don't). Located in the heart of Newport's historic district and offering four, distinct styles of unconventional coastal-chic lodging. Completely renovated in 2012 by Boston's award-winning interior designer, Rachel Reider, the accommodations feature modern furnishings, eclectic accents and sophisticated amenities. Each room or suite offers plush linens, flat-panel TV/DVD, iPad and iPod docking station, and much more. Free parking.