Just because visitors to Newport, RI can't stay in its famous mansions in the lap of luxury doesn't mean that their accommodations have to be anything but spectacular. From familiar high-end chain hotels to Newport RI boutique hotels, those seeking an unforgettable getaway will not be dissapointed. Newport, Rhode Island's hotels are found throughout the city, from Goat Island and harborfront locations to the historic hill and the cliffs overlooking Easton's Beach. Whatever lodging you choose as your destination, you're sure to be pampered and well-cared for on your next visit to Newport.
Over the years, some accommodations have become increasingly sophisticated, and many now offer high-end room amenities including luxury linens, spa services and even pillow & soap menus. Other hotels in Newport have stayed true to their roots and offer just the basics of a comfortable bed and a clean room. Location can be a big factor when choosing your room in Newport - stay close to downtown Newport wharf areas and pay a little more or choose to stay on the outskirts of town but have to deal with potential parking issues during your visit. If it is within your budget, our suggestion is to stay somewhere within walking distance of downtown shopping, dining and nightlife. A car can be the biggest hindrance on the often small and cramped streets of Newport RI, a colonial city which sprouted and grew up hundreds of years ago - long before the advent of the automobile and parking garages.
On the other hand, if you're looking for more quiet and solitude than hustle and bustle, a luxury boutique hotel in a quaint area of town might just be the place for you. The point here is that whether you want nightlife and dancing or a quiet Adirondack chair overlooking the water, one of Newport's many hotels will provide exactly what you need!
Featured Hotel in Newport
Mill Street Inn
75 Mill Street
Newport, RI
(800)392-1316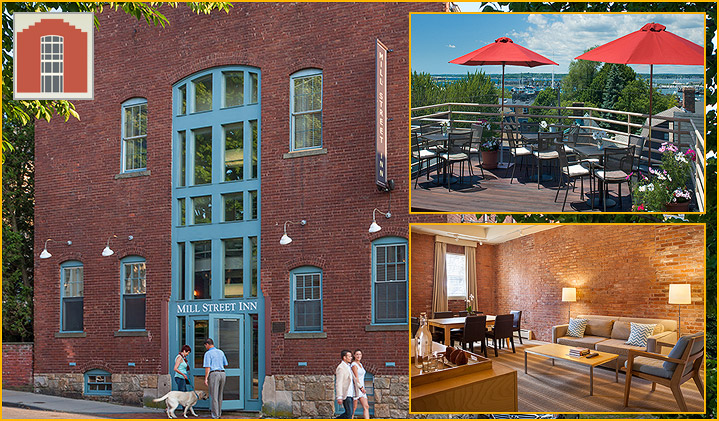 Located on the National Register of Historic Places
Impeccably-restored 19th century mill in the heart of downtown Newport, 1-minute walk to all downtown shopping, dining and nightlife
Features 23 suites with all the modern conveniences you'd expect including continental breakfast buffet, enjoyed in the comforting surroundings of exposed brick walls and beams.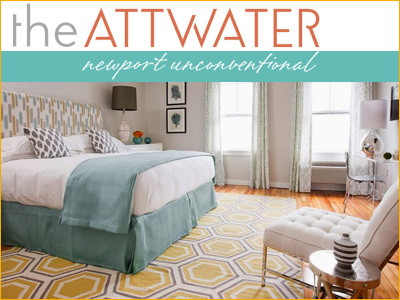 The Attwater
22 Liberty Street
Newport, RI (401)846-7444
1-800-392-3717
VISIT WEBSITE
LOCATE ON MAP
The Attwater offers a more personal lodging alternative to big box hotels - yet with a chic, modern edge elusive to most B&Bs. Guests find exceptional guestrooms; a clever, all-day coffee cafe; and attentive service when they want it (privacy when they don't). Located in the heart of Newport's historic district and offering four, distinct styles of unconventional coastal-chic lodging. Completely renovated in 2012 by Boston's award-winning interior designer, Rachel Reider, the accommodations feature modern furnishings, eclectic accents and sophisticated amenities. Each room or suite offers plush linens, flat-panel TV/DVD, iPad and iPod docking station, and much more. Free parking.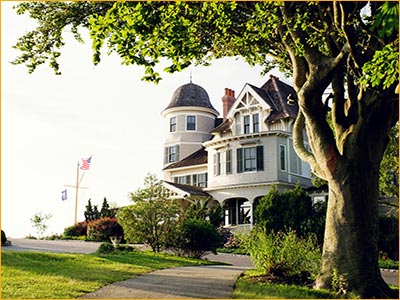 Castle Hill Inn
590 Ocean Drive
Newport, RI (888)466-1355
VISIT WEBSITE
LOCATE ON MAP
Castle Hill offers a variety of accommodations from rooms at the main inn to beach houses set on a private beach, all on a peninsula with sweeping views of Newport harbor and the ocean. Voted one of the top 500 greatest hotels in the world, and for good reason!
Courtyard by Marriott
9 Commerce Drive
Middletown, RI (401) 849-8000
1-888-686-5067
VISIT WEBSITE
LOCATE ON MAP
The Courtyard Newport Middletown is a family-friendly hotel just minutes from downtown Newport, historic mansions, area beaches and several local universities. Stay in comfort and style with spacious guestrooms, free WiFi throughout the hotel, free parking, and convenient on-site dining at The Bistro featuring Starbucks®, breakfast, dinner & evening cocktails. Enjoy a year-round indoor/outdoor pool, fitness center and relax in our comfortable lobby lounge areas. Deals & packages available throughout the year!
Gurney's Newport Resort & Marina
1 Goat Island
Newport, RI (401) 849-2600
VISIT WEBSITE
LOCATE ON MAP
Situated on Goat Island and completely surrounded by water views, Gurney's Newport Resort & Marina offers the seclusion of a private island setting, yet is just minutes to downtown Newport. The hotel offers 257 guests rooms, including 19 suites, the majority with water views. The resort also features a full-service Seawater Spa and Salon offering the latest therapies and salon services, including full-body wraps, massages, and beauty treatments. Dine harbor side at the Windward Coastal Grille, enjoy a cocktail or light fare overlooking the Newport Bridge at the seasonal Pineapples on the Bay, or celebrate with friends and family at the Five33 Lobby Lounge. A total of 27,000 square feet of indoor function space and 50,000 square feet of outdoor event space including a pavilion overlooking Narragansett Bay for are perfect for waterfront meetings, weddings and receptions.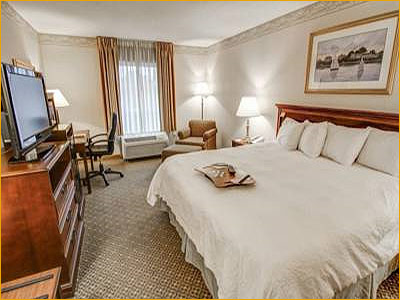 Hampton Inn & Suites Newport/Middletown
317 West Main Road
Middletown, RI (401)847-5131
VISIT WEBSITE
LOCATE ON MAP
The award-winning Hampton Inn & Suites Newport/Middletown offers guests the ultimation in relaxation in their well-appointed, modern rooms. Inside you'll find everything you need for work and play, such as complimentary WiFi, large flat-screen TV, microwave, refrigerator, and a clean and fresh Hampton bed®. Get your day off to a great start with Hampton's free hot breakfast. Complimentary heated indoor pool, whirlpool, fitness center, and business center are also included in your stay. With all of its extra amenities, this is a great choice for any traveler!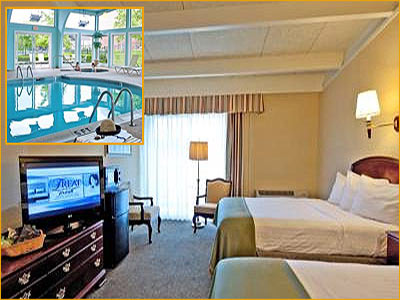 Howard Johnson Inn - Newport
351 West Main Road
Middletown, RI (401) 849-2000
VISIT WEBSITE
LOCATE ON MAP
Award-winning hotel 2 miles from downtown Newport and beaches. Features a large indoor pool, whirlpool, sauna, attached Applebee's Grill & Bar, fitness room, business center, free wireless high-speed internet, pet-friendly section.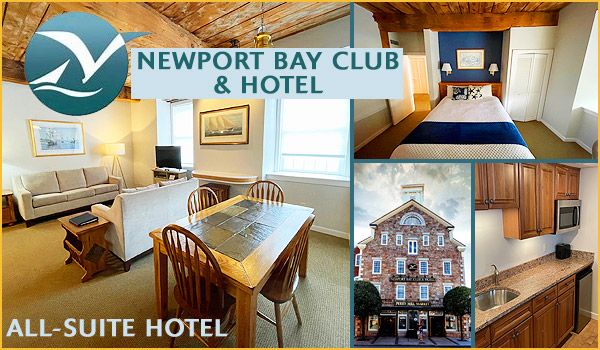 Newport Bay Club
337 Thames Street
Newport RI (401)849-8600
VISIT WEBSITE
LOCATE ON MAP
The Newport Bay Club sits right in the middle of downtown Newport directly on the harbor. Besides its great location, the Bay Club features suites and townhouses with complete kitchens and living areas, making it easy to call this hotel your home away from home. Parking is included for one car, and many rooms feature exposed stone walls and cozy outside seating areas offering vistas of the city and harbor. A great choice of hotels for those that want to be right in the midst of all downtown activities, shopping and dining.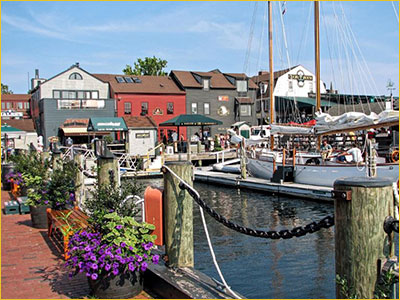 NEWPORT TIMESHARES
Newport, RI (877)815-4227
VISIT WEBSITE
NEWPORT MAP
Each Newport RI timeshare resort that can be found in SellMyTimeshareNow.com's inventory is centrally located right downtown and offers full-service spas, indoor/outdoor pools, and fitness centers for guests to enjoy. The suites are tastefully decorated and fully furnished, many including waterfront views, kitchens/kitchenettes, large bedrooms, and living/dining rooms. Perfect for a group or family, Newport timeshares for sale offer the ability to vacation affordably to this beautiful location yearly. Alternatively, visitors can find one-time rentals which are also priced at exceptionally low rates by private timeshare owners.
The Newport - Harbor Hotel and Marina
49 America's Cup Avenue
Newport, RI (401) 847-9000
VISIT WEBSITE
LOCATE ON MAP
Located directly on the harbor, the Newport Hotel offers an indoor pool, indoor dining & bar, patio dining & bar with live entertainment on the waterfront and easy access to all events downtown. Or set sail aboard an America's Cup Yacht and shop Newport's famous wharves all within steps of this hotel!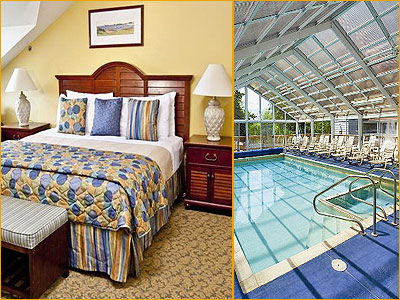 OceanCliff I & II
65 Ridge Road
Newport, RI (800)228-2968 / (401)846-6667
VISIT WEBSITE
LOCATE ON MAP
Located adjacent to famous OceanCliff hotel & resort, OceanCliff I and II feature newly-updated spacious condo units. Fantastic location right on the ocean with a sloping lawn down to the water's edge. A great place to relax and unwind just outside the hustle and bustle of downtown Newport.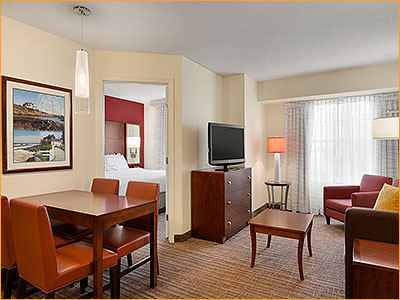 Residence Inn Marriott- Newport
325 West Main Road
Middletown, RI (401) 845-2005
VISIT WEBSITE
LOCATE ON MAP
The newly-renovated suites in this hotel include a new sectional sofa, an ergonomic desk, updated bathrooms and contemporary color scheme which complement the spacious suite's separate areas for eating, sleeping and working. Inside each suite you'll find a refrigerator, stove, sink and microwave to prepare meals during your stay without ever having to leave the comfort of your suite! There's even a major grocery store chain located less than a minute away to stock up on groceries for your stay. Free full hot breakfast buffet served daily, Evening Mix every Monday, Tuesday & Wednesday's offering free craft beer & wine. Maintain your lifestyle with a 24-hour fitness center, indoor pool and whirlpool. It's not a room, it's your home away from home!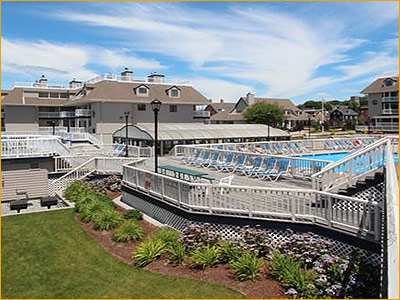 Wellington Resort
551 Thames Street
Newport, RI (866) 469-8222
VISIT WEBSITE
LOCATE ON MAP
One of Newport's most convenient places to stay, the Wellington timeshare Resort rents their 2-bedroom condo suites with kitchen, dining and living areas when there is availability. Centrally-located overlooking Newport Harbor at the corner of Thames Street and Wellington Ave (the beginning of Ocean Drive), you are only a short walk from all downtown shopping/dining or outdoor activities on Ocean Drive.

MENTION DESTINATIONNEWPORT.COM AND RECEIVE 10%-20% OFF OF YOUR STAY!