Last Updated:
Block Island is Just a Short Ferry Ride Away
For those who are fortunate enough to spend a week or more visiting Newport during the summer or fall, this day (or overnight) trip is a must! Ferries leave daily from downtown Newport and return later in the day, so you can easily do a short day trip to the island. The ferry ride is a little over an hour, and you can bring bikes with you, or rent them on the island. Scooter rentals are also available, as well as taxi service when you get there. Several hotels offer rooms for overnight visitors, and you'll be amazed at how the town looks a little frozen in time. The National Hotel was built in 1888 and is on the National Register of Historic Places. From the outside, the hotel maintains all of its victorian charm, and the vintage interior doesn't dissapoint, either. One can't help but relax on its huge veranda overlooking town and the ocean beyond.
Stunning Beaches and Cliffs Surround the Island
One step off the Block Island Ferry and you'll see why it's such a unique place. The great thing is, most of what you want to see is available right off the ferry. The small town of New Shoreham is where the ferry docks, and offers visitors all the necessities in a compact area. There are beaches to the left, beaches to the right, and a small New England coastal village in the middle. Here you'll find its grand historic hotels from the late 1800's, quaint shops and delicious local food.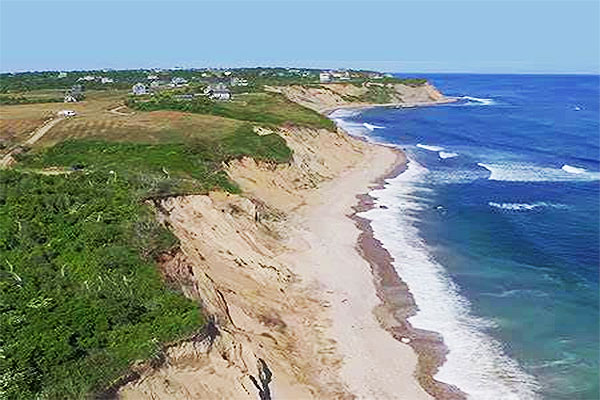 At the beach, what you'll really notice is the lack of people. Block Island is a very small year-round community and even in summer, you can find stretches of sand where you'll be alone with the sand and surf. A truly memorable experience for everyone in the family. Being a relatively small island, you can bike the island in less than a couple hours, and even take in stops along the way like Mohegan Bluffs and the historic Block Island lighhouse. Wherever you go beyond the small town, you'll find rolling pastures dotted with small homes and seashell driveways along the way. Cars are very limited on the island, so biking along the roads is quite safe and pleasurable for riders of all ages. Whatever you plan to do on your visit to the island, its sure to be one of the highlights to your vacation to southern Rhode Island!
<<- Home