Last Updated:
Most people who are even slightly familiar with Newport know the well-traveled roads of America's Cup Avenue, Memorial Boulevard, Bellevue Avenue and of course Thames Street. Its where you'll find the main commercial and retail establishments, along with a healthy dose of restaurants and bars. No matter where you roam in the city of Newport, you can pretty much throw a rock in any direction and hit a historical monument, statue, or home.
Notwithstanding the pervasive feeling of history one gets just strolling downtown, there are other, less-traveled but spectacular locations to take in on your next trip to Newport. For the historian and/or lover of architecture, a meander down the streets that make up the Point neighborhood in Newport will not disappoint. With so many historic homes together, you may be fooled into thinking that you've stepped back in time, and you are perusing Newport much as it was over 200 years ago. These homes were built on landfill on what was once a marsh. They were home to sea captains and those wanting to live close to their boats just offshore. Even today, some homes feature long docks jutting out into the relatively shallow ocean waters in this part of Newport.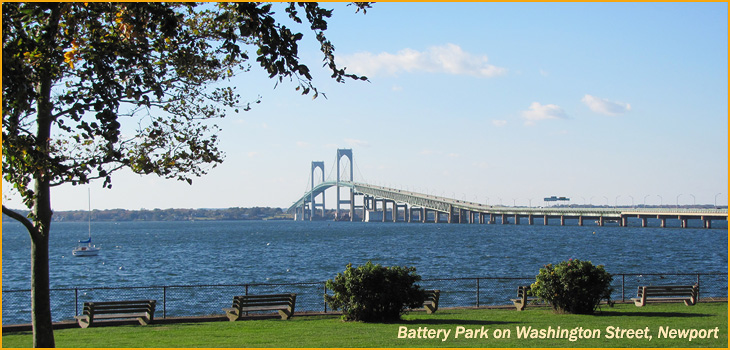 The Point is located just north of the Goat Island Causeway and many of the homes have been preserved, thanks to the efforts of Doris Duke and The Newport Restoration Foundation. She saved some 50+ historic homes from the wrecking ball in the 1960's, preserving what would become known as the largest collection of colonial-era homes in the United States. This one-of-a-kind peek into America's history is comprised of small streets and tightly-packed houses with postage-stamp backyards that hide incredible secret gardens and hand-laid brick walkways. Look closer as you walk by and see the hand-forged nails used to attach the wood siding to the front of the house. At that time, siding was a labor-intensive undertaking when building a home in Newport, and oftentimes you will only see the front of the house facing the street with painted siding. Inexpensive shingles cover the remainder of the home and help keep out the elements. Everything you see was crafted entirely by hand.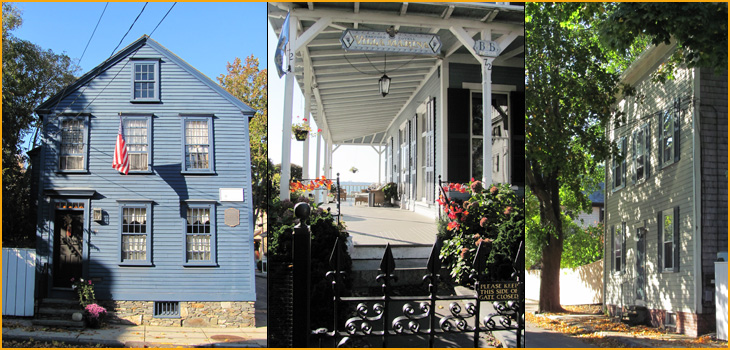 The main street along the harbor front leading up to the base of the Newport Bridge is Washington Street. Besides the incredible views of Goat Island, Newport Harbor and the Newport Bridge, the homes that line the waterfront are spectacular reminders of Newport's inherent wealth and a tribute to its artisans and craftsmen. Elaborately detailed homes reveal the fortunes of those who lived there centuries ago, reeling from the incredible profits made as sea traders and an important piece of the trans-Atlantic slave trade for many years. The two other main streets that make up the Point are 2nd and 3rd Street, which run parallel to Washington Street, creating a grid of some 30 small blocks. Take a few hours and walk slowly and deliberately down these streets, many of which are named after trees in the Quaker tradition.
It really does make for an amazing early morning walk, coffee in hand. Or visit at night with the gas-lit street lanterns, sure to invoke a feeling of a time gone by. Either way, just make time to visit, and surround yourself in history for a while on your next vacation to Newport.
<<- Home