Because Newport is geared more for bikes, scooters and walkers, those who rent or bring bikes to get around town may find themselves moving faster than the cars on busy summer weekends. Many people bike to 1st beach, or take a long leisurely ride (about 7.5 miles) around Ocean Drive and stop in the middle at Brenton Point to relax and take in some ocean vistas. With the recent addition of e-bikes to the market, Newport's various bike shops now offer e-bike rentals for visitors who like the option of just turning the throttle for a fun ride around town.
Some of the other great places to bike are to be found in the Point and Historic Hill sections of town, where you can look at one of the largest collections of pre-1800 architecture in the country. Some like to travel the length of Bellevue Avenue (about 2.5 miles) and look at the mansions along the way. Whatever your activity, chances are that biking can be a part of it.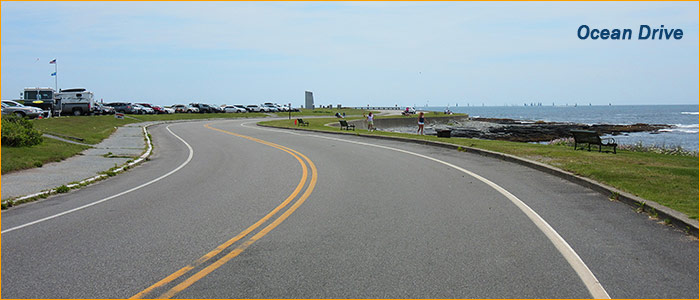 The fact that Newport is on a relatively small island offers little resistance to the adventurous biker. To the east over the Sakonnet River Bridge lies Tiverton and Little Compton (Rt. 77). This is a quiet single lane country road in good condition that runs down to the mainland ocean beaches in Little Compton about 20 miles from the bridge.
For the mountain biker, trails can be found just a short drive away in Exeter (about 30 minutes) at Arcadia Park. The park consists of over 12,000 acres of land, showcasing the best nature preserve in Rhode Island. The 30 miles of trails are maintained by The Appalachian Mountain Club and the Department of Environmental Management, with 12 parking lots located throughout the area.
Whether you want to just bike around town, out on Ocean Drive, or off-island, Newport and the surrounding towns have something to offer and are definitely bike-friendly. These area bike shops can assist you with rentals and more information about touring the Ocean State. More Information About Biking Around Newport.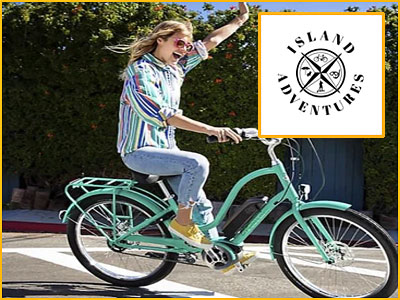 Island Adventures
4 Spring Wharf
Newport RI (401)367-1618
VISIT WEBSITE
LOCATE ON MAP
Located right in the center of town off Thames St, Island Adventures is truly a one-stop rental shop for all your recreational needs while in Newport. From bikes and ebikes to beach chairs, umbrellas and even paddleboards, this place has it all!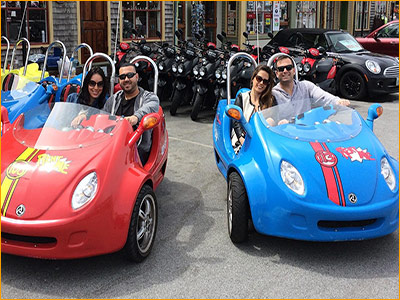 Scooter World
9 Christie's Landing
Newport (401)619-1349
VISIT WEBSITE
LOCATE ON MAP
Not just your average scooters here - Scooter World offers a fun and easy ride with their new trike bikes. Three wheels means they are completely stable and you can fit 2 passengers in each car. Loads of fun for people of all ages. If you prefer the traditional scooter, they've also got plenty of shiny new scooters from which to choose. Rent by the hour, partial or full-day. Highly recommended way to see all of Newport and take in the ocean air!
Featured in The Blog for Lifestyle and Travel: Rhode Island Bucket List: 50 Top Things To Do In Rhode Island". A fun little resource for those visitors who want to really experience all of Rhode Island on their visit!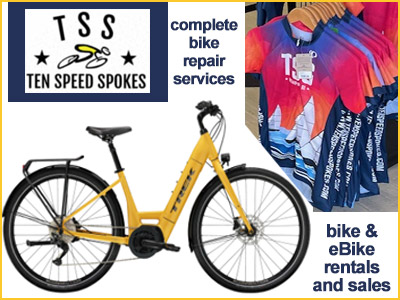 Ten Speed Spokes
18 Elm Street
Newport RI (401)847-5609
VISIT WEBSITE
LOCATE ON MAP
NEW! E-bike rentals! Whether you want to rent a bike or e-bike, buy one or just have some service done on your own bike, Ten Speed Spokes is conveniently located next to the Visitor's Center right off America's Cup Avenue at the entrance to town. Inside you'll find exceptional service, a wide array of bikes to choose from, and convenient access to downtown Newport and its waterfront activities.