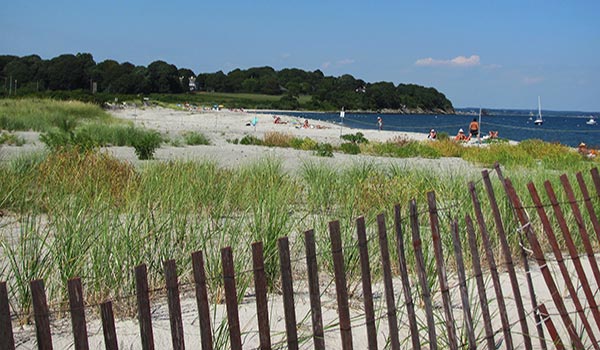 Newport RI has been spoiled by not only miles of coastline and sandy beaches, but warm ocean waters as well. As one of the last stops for the Gulf Stream current that starts in the Florida straits and juts out across the Atlantic to southern England, Newport's water temperatures often rise above 70 degrees on the beaches in the months of July and August. Sometimes it even warms enough to swim by Memorial Day! At the end of the season in September and October, the ocean water is often still in the mid 60's and many people swim the beaches until the last weeks of October.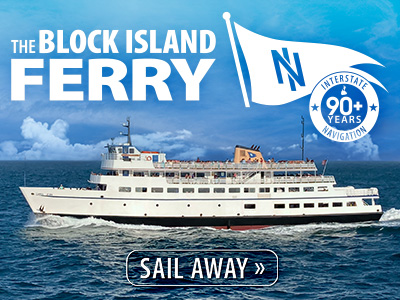 Block Island Ferry / Beaches
Perrotti Park Ferry Terminal
Newport, RI (866) 783-7996
VISIT WEBSITE
LOCATE ON MAP
With daily departures from Newport & Pt. Judith, the Block Island Ferry is your fastest link to Block Island! You, your family, and even your pups, can take in the beautiful ocean scenery from our spacious cabins and decks. Along with its beautiful beaches which are located just steps from the ferry landing, enjoy Block Island's many hiking trails, sites, restaurants, shops, and more! There's something for the whole family!

Area beaches range from small intimate coves to mile-long stretches of gray-white soft sand beach with varying degrees of surf. The highest waves on Newport's beaches often occur away from the beaches themselves and closer to the rocky outcroppings of The Cliff Walk, Sachuest Point National Wildlife Refuge, and Brenton Point State Park where you may find small sandy areas to enjoy the water and surf. Newport's beaches tend to lie in more protected inlets, offering decent waves for both surfers and families looking to have fun in the waves. Expect to find wave heights anywhere from less than a foot to about four feet preceeding coastal storms with a strong onshore flow or the day after a storm departs the area.
Visitors to the beaches in Newport RI can enjoy a varying level of services, from nothing at some to full concessions, parking and bath houses at others. The list below can help you decide which is the best beach in Newport for you. An important thing to know is that most beaches don't allow alcohol or pets, especially during the active summer season. Some beaches in Newport relax the pet policy in the off-season on a beach-by-beach basis. Cars are also prohibited on all beaches, and for good reason. The sand tends to be deep and very soft, fun for the toes but not so good for car tires. Although you will find most Newport beaches packed throughout the warm sunny days of summer, after 6pm is a great time to stop by for a swim or a walk. Most beaches stop charging for parking at that time. What a great(and FREE) way to spend a couple hours after your day's activities around Newport.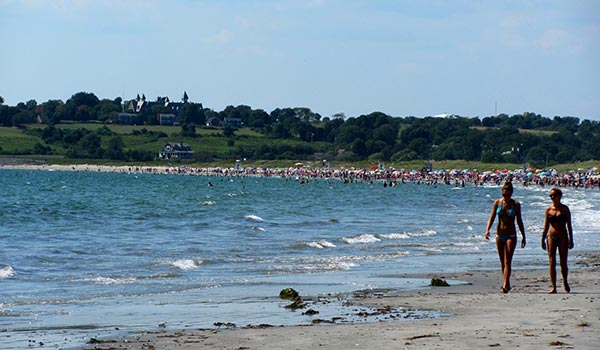 The best kept secret about exploring our beaches is that the best time to experience them is AFTER Labor Day, when the crowds (and the parking fees) have gone. The ocean is still quite warm and swimmable, the sun still strong and there may only be a few people on a mile stretch of sand. It really takes enjoying the beach to a whole new level.
The beaches we've listed below each have something special, depending on what you want to do. No matter what you choose, Newport definitely has you covered in the beach department: young, surfers, family with kids, romance and more! Three of the beaches in Newport lie in a row, separated by peninsulas of land and rock that jut out into the sea. As a result, many local people refer to the beaches as 1st, 2nd and 3rd. They are noted below to help you get to the right beach when you're here!