Newport County is home to some of the finest award-winning vineyards in the northeast. All of these vineyards are within a 45-minute drive of downtown Newport, making them easily accessible to most visitors. Take some time and explore the natural beauty of these vineyards, where our local climate mimics that of a famous wine-producing region in France. You can even make a day trip to all the vineyards as part of a tour and sample something from each vineyard along the way.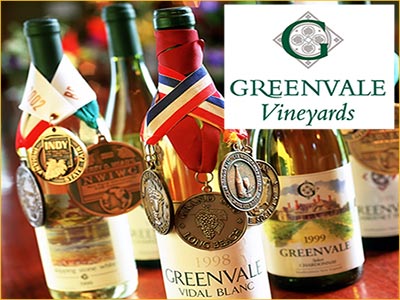 Greenvale Vineyards
582 Wapping Road
Portsmouth RI (401)847-3777
VISIT WEBSITE
LOCATE ON MAP
Only 10 minutes from downtown Newport, this vineyard is very accessible and offers tours/tastings on a farm overlooking the Sakonnet River. It is listed on the National Register of Historic Places and hosts events like book-signings and concerts in addition to weddings and other events. Beautiful location on sloping hill down to the water's edge.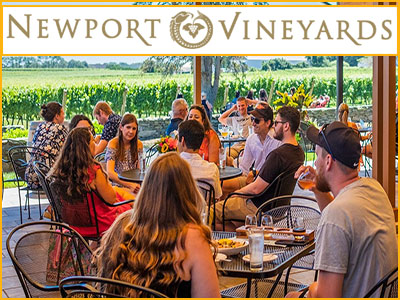 Newport Vineyards and Winery
909 East Main Road
Middletown RI (401)848-5161
VISIT WEBSITE
LOCATE ON MAP
This is the closest vineyard to downtown Newport at just about 5 minutes. Inside you'll find daily tours/tastings amidst countless thousands of rows of locally-grown grapes for their wines. A great time to visit is during fall harvest but anytime is a fun learning experience for the whole family. Tours daily at 1pm and 3pm. Saturday - tours on the hour from 11am - 4pm. Wine tastings all day.
Sakonnet Vineyards
162 West Main Road
Little Compton RI (401)635-8486
Beautifully-landscaped grounds here as well as award-winning wines. Buy a bottle and have a picnic in the grass or take home a case. Daily tastings. A little less than an hour's scenic drive from downtown Newport.
Westport Rivers Vineyard and Winery
417 Hixbridge Road
Westport, MA (508)636-3423
Nationally-recognized as one of the top 5 sparkling wine producers in the country. Located just east of Newport County and Little Compton, RI. About an hour's scenic drive from downtown Newport.