Begin Your Ocean Drive Adventure in Downtown Newport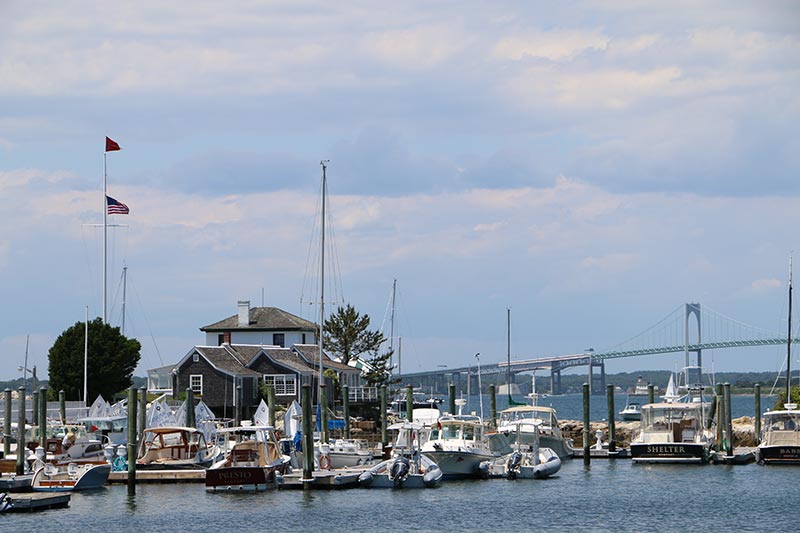 Starting at the intersection of Wellington Avenue and Thames Street, Ocean Drive is easily accessible from downtown Newport. The first views are of Newport Harbor, the Newport Bridge, Goat Island and the myriad of boats in the harbor. You'll also pass a small Newport yacht club called the Ida Lewis Yacht Club, which seems to be perched on a rock in the middle of the harbor. Although it is private, fundraisers and events are held there throughout the warmer months of the year. There are plenty of free parking places here if you want to stop and enjoy the adjacent park and beach area, including some big trees offering some welcome shade during the summer months. Families love this park area because it has a public grilling area, small beach for the kids and even a playground area.
Your First Stop Offers Sweeping Views of the Newport Bridge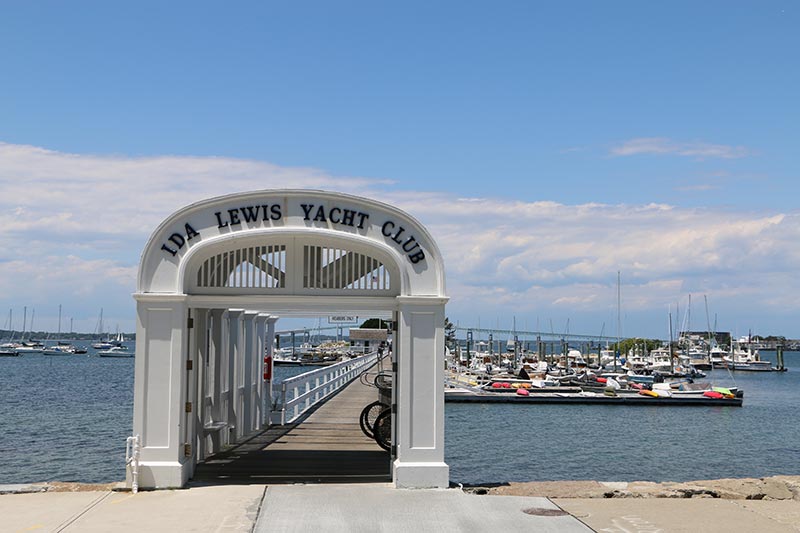 From here, Ocean Drive moves away from the water for a while, past the New York Yacht Club, the SVF Foundation and Farm, and down a steep hill. Newport's historic Fort Adams is on your right, and we strongly encourage you to detour off the drive to explore the Fort. Home to Newport's own sailing school, a family-friendly beach overlooking Newport Harbor and the massive fort built in the 1800's to protect the growing Navy population in Newport. At the time it was built, it was the largest coastal defense work of its kind in the United States. The United States considered Newport's Harbor and the surrounding Narragansett Bay one of the best deep water harbors in the world, and wanted to make the very large investment of over 3 million dollars to protect the area from enemies. The views of Newport from here are incredible, and offer the visitor unobstructed views of Newport Harbor, The Pell Bridge and Goat Island.
The Drive Leads Down to Fort Adams, Location of Newport's Famous Jazz and Folk Festivals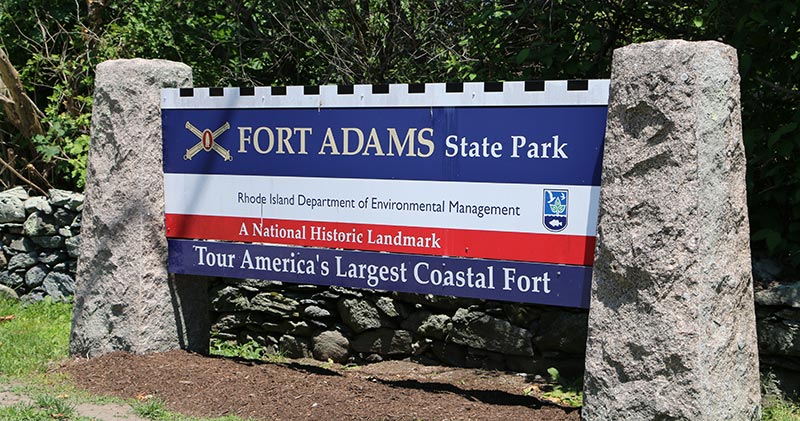 Nowadays, Fort Adams is also home to various organizations like Sail Newport as well as annual festivals like the Chowder Fest. But even when these events aren't taking place, the Fort is a great place to spend the day having a picnic, swimming at the beach and maybe even learning how to sail. You can even find ferry service to nearby Block Island here as well. Admission to the public is free and the park is open year-round, with fort tours available seasonally.
Historic Fort Adams in Newport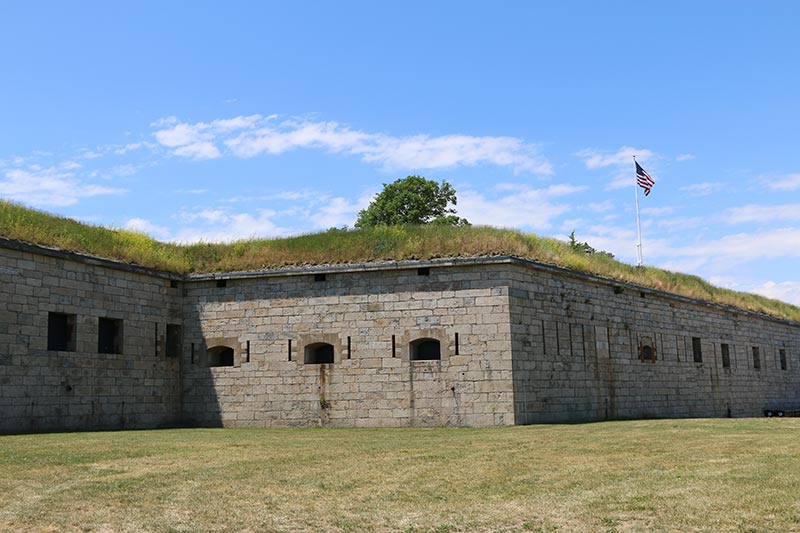 Past the Fort, you'll find an idyllic pasture with horses and cows, before coming upon Hammersmith Farm. Although it is now privately owned and unavailable for tours, it was once President Kennedy's summer house. The grounds are truly amazing, and the somewhat modest house sits atop a hill with a sweeping lawn down to the ocean's edge. The next mile or so once again takes you away from the ocean on a short detour past grand summer homes perched on a hill overlooking the ocean below. On your right appears OceanCliff, a resort featuring rooms, outdoor and indoor dining, as well as a wedding facility. This is a GREAT place to stop on your journey, have some lunch or a drink at the outside bar, all the while taking in the sweeping ocean vistas below.
Newport's OceanCliff Resort Offers Some of the Best Views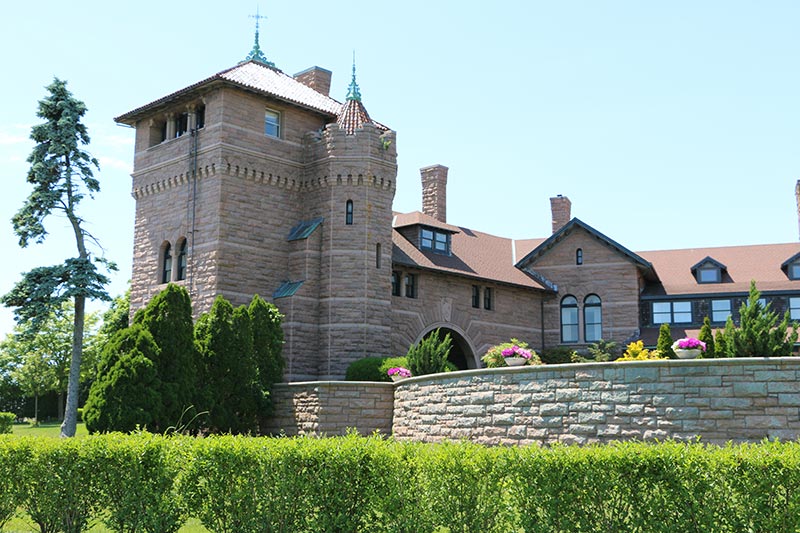 As you round the next corner, the full beauty of Ocean Drive comes into view. The next couple of miles feature completely unobstructed views of the Atlantic Ocean. On your left, Brenton Point State Park is a hidden gem that a lot of visitors don't take advantage of during their time in Newport. It features large open spaces, grilling stations, picnic tables and a wonderful place to play frisbee and fly kites due to the consistent ocean breezes. On hot summer days, the temperature can be a full 10-15 cooler here, offering some respite from the summer heat in downtown Newport.
Brenton Point State Park is Famous For Its Cool Breezes and Unobstructed Views of the Open Ocean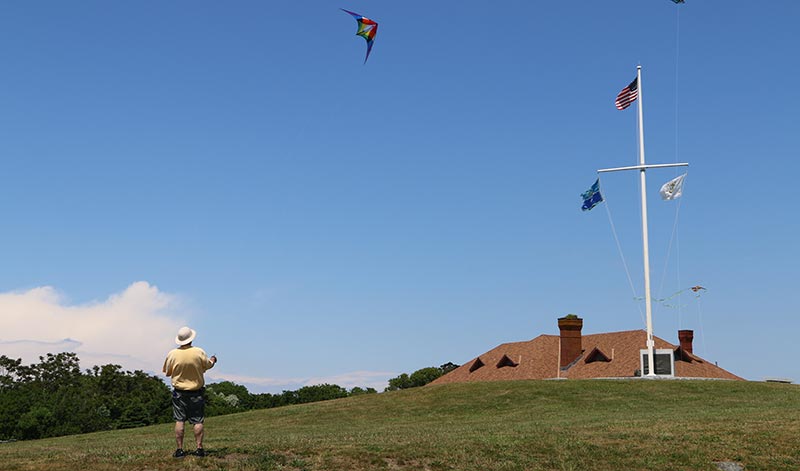 Parking at Brenton Point and beyond, there are plenty of places to take a break and take in the views. Park benches line the ocean and offers visitors a place to relax and smell the cool ocean breezes while watching sailboats and ships pass by. This area is open ocean, and there is nothing to obstruct your 180+ degree view of the cool blue waters of the Atlantic. Many families like to walk out on the rocks and let the kids explore the tidal pools, where you'll find all sorts of sea creatures hiding in the rocks and seaweed that blanket this part of the Newport RI coastline. This can also be a fun place to have a picnic and spend the day, sloshing in the waves and sunshine.
Scenic Views Are Everywhere on This Coastal Route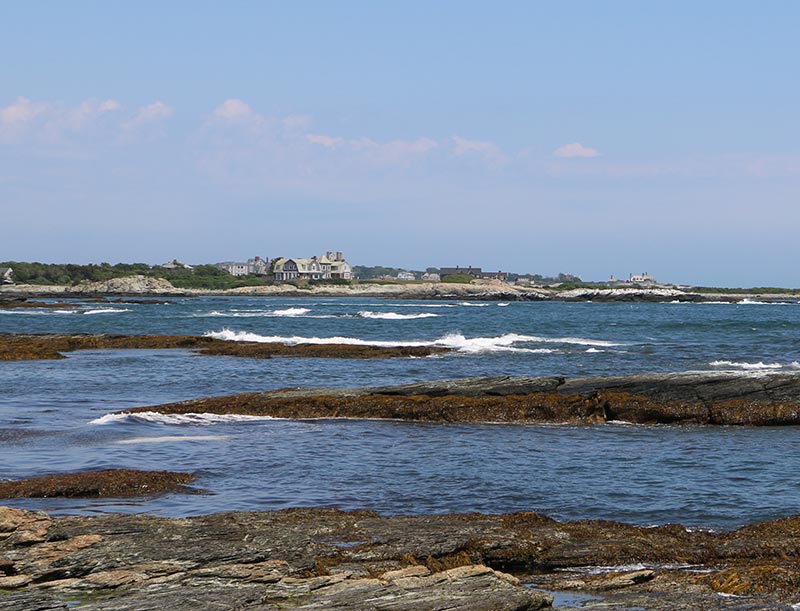 Although there is only one true beach with free parking on Ocean Drive, there are plenty of areas with smooth stones to prop a beach chair and enjoy your own private spot on the ocean. There are small areas to park along this stretch of Ocean Drive so it makes the area very accessible whether it's just you on a bike or a family of 6 in a minivan with coolers and chairs in tow. Children will be occupied for hours just watching the waves, collecting rocks and any critters that they can find on their journey.
Take a Few Moments to Enjoy the Salt Air and Light Spray from the Water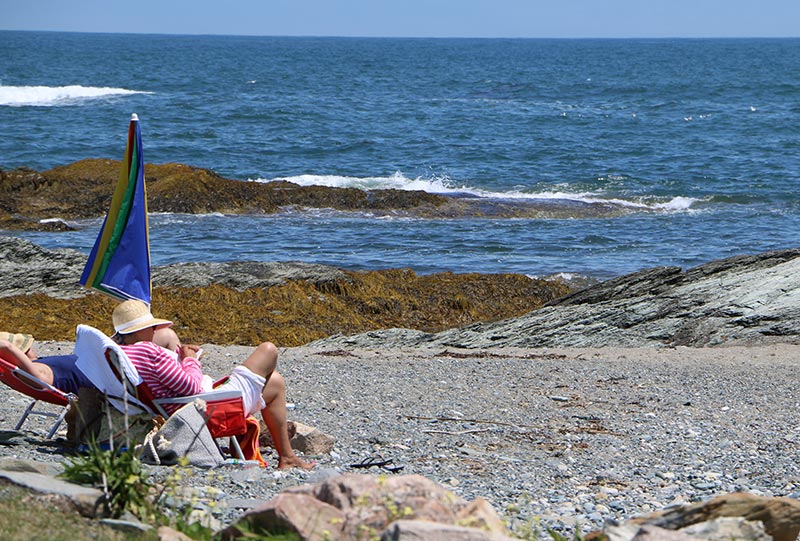 The next mile or so is dominated by stunning oceanfront estates set on large acreage. Some built over a hundred years ago, some built in the last year. What they do have in common is a classic Newport coastal grandeur that will peak your curiosity and make you wonder what it would be like to live inside their walls. A lot of these residences are indeed year-round, and virtually all these estates are gated and heavily landscaped for privacy.
Beautiful Coastal Homes Dot the Landscape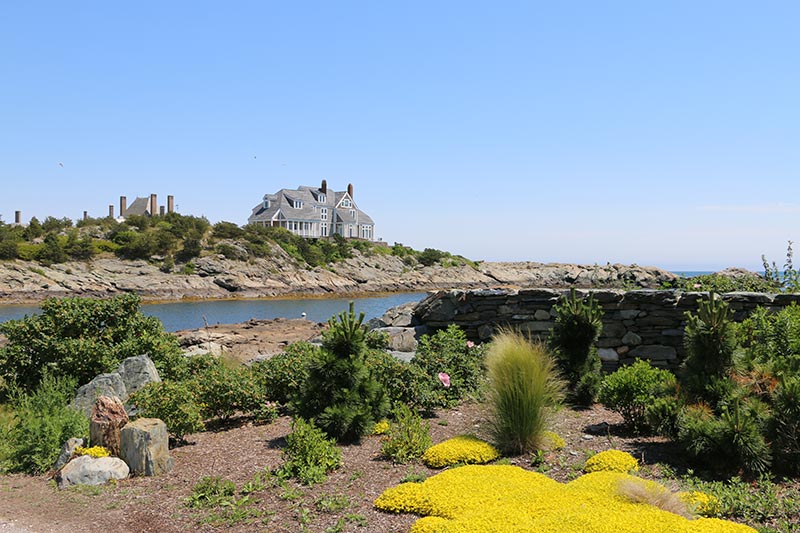 The final leg of your journey before reaching Bellevue Avenue are the south-facing beaches. First you'll pass Hazard's Beach, a private beach club with no public access, and then Newport's Gooseberry Beach, a public beach with concessions and services. Parking at Gooseberry during the summer months is available for a daily fee. Beyond Gooseberry Beach is Newport's Spouting Rock Beach Association, another exclusive private beach with no public access. But don't let that deter you, because the very end of the beach (called Bailey's Beach) is accessible to the public and offers bikers and walkers a place to take in scenic ocean views on powdery sand. Unfortunately, there is NO PLACE to park a car, so this beach is only accessible to those willing to bike from downtown Newport or perhaps take a taxi. It is only a 10 minute ride either way, and the beach is quiet and secluded. It tends to be a favorite of locals, especially college-age kids here working for the summer months in Newport's restaurants and shops.
Beaches Fill the Last Part of the Drive, Offering Soft Sand and Warm Ocean Waters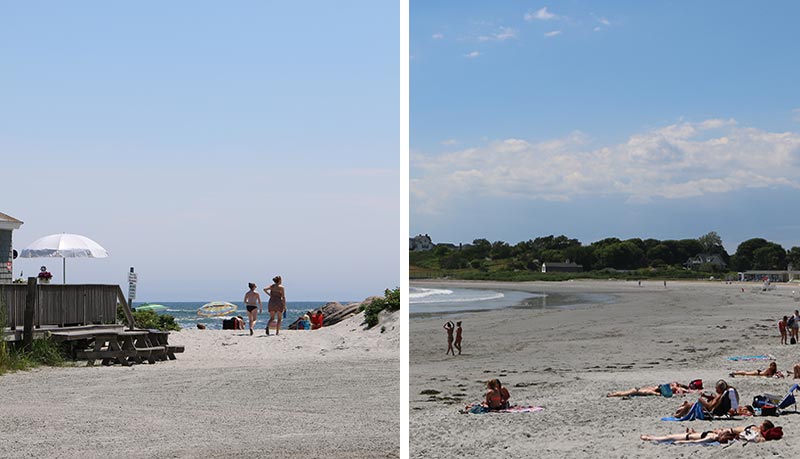 The remainder of the trip back to town is essentially the length of Bellevue Avenue, home to many of Newport's mansions and considered one of the main thoroughfares in Newport. Even though you will not see any ocean views from this point on, it makes for an interesting walk, bike or drive regardless. The architecture, sheer size and ostentatiousness of these homes are truly a marvel and the pinnacle of master craftsmanship.
However you decide to explore Ocean Drive in Newport RI, just remember to take the time to stop and discover its nooks and crannies along the way. It offers visitors a unique way to explore the area's fascinating history and geography on one of America's most diverse and interesting byways.