At first glance, Newport doesn't seem to be a family-friendly place to relax and keep your whole family entertained. After all, mansions and fine dining doesn't fit too well with a small child's idea of a good time. But if you look around, you'll find that Newport RI is every bit as kid-friendly as other destinations. Sparkling beaches with low surf and powdery sand is every kid's dream, and taking the family for a bike ride around Newport and Ocean Drive is just plain fun for everyone. When it comes to special actiivities, we have those too! And when you just want to sit down for a simple meal, Newport has plenty of family dining options from simple pizza and pasta to burgers and chicken for the children. These are some of our favorite fun things to do in and around Newport with the kids!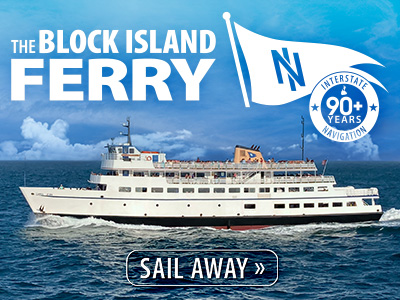 Block Island Ferry
Perrotti Park Ferry Terminal
Newport, RI (866) 783-7996
VISIT WEBSITE
LOCATE ON MAP
With daily departures from Newport & Pt. Judith, the Block Island Ferry is your fastest link to Block Island! You, your family, and even your pups, can take in the beautiful ocean scenery from our spacious cabins and decks. Along with its beautiful beaches, enjoy Block Island's many hiking trails, sites, restaurants, shops, and more! There's something for the whole family!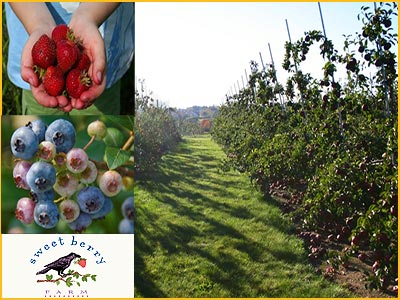 Sweet Berry Farm
915 Mitchell's Lane
Middletown, RI (401) 847-3912
VISIT WEBSITE
LOCATE ON MAP
NEW! This family-friendly working fruit and vegetable farm sits on 100 acres of conserved land. Located just a 10-minute drive from downtown Newport, the farm offers pick-your-own fruit and vegetables throughout the growing season. Kids love running around amongst the acres of apple trees, blueberry bushes and pumpkins dotting the farm ready for harvest. Parents love the oppportunity to let their kids explore the farm while they sample the delicious local produce and relax a little. When you're done with your own harvest, you can head inside to the café to enjoy soup, sandwiches and other homemade goodies like fresh pie, artisinal cheeses and a great selection of candy! A real treat for families to explore and a definite must-do while visiting Newport during the spring, summer and fall. Open 'til Christmas for lunch.
Beaches
There's something about a pail, shovel and a whole lot of sand that keeps kids occupied and happy for hours. Bring some lunch from one of Newport's many sandwich shops and have a family picnic day at the beach. Also fun in the spring and fall for collecting extra large clam shells that can be used for arts and crafts.

>> More About Newport Beaches
Lobstering Tours
Board a 50-foot working lobster boat in downtown Newport with the family and head out to see how the lobsters are caught in traps and hauled onboard for sorting and delivery. Learn how lobsters live and grow in our New England waters and at the end of the tour, the lobsters are set free back in Newport Harbor. Fun for kids of all ages!
Flying Kites at Brenton Point
Ocean Drive has something more to offer visitors than just spectacular views and grand mansions on the water. Because there almost always seems to be a breeze at Brenton Point State Park, it has become a favorite spot for kiteflyers to congregate and fly all types of kites. Large open areas of grass and a stiff breeze means the whole family can fly a kite here, and bring food because there are picnic tables and barbecue grates for grilling!
Save The Bay Exploration Center
175 Memorial Boulevard
Easton's Beach
Newport (401)324-6020
VISIT WEBSITE
LOCATE ON MAP
Looking to get your family a little closer to the local sea life? Head over to this hand's on exhibit at Newport's Easton's Beach. The kids can learn all about the local marine life and even take home an Exploration Center memory from their arts and crafts area. Featuring live exhibits and a touch tank - home to many Bay creatures including sea stars, lobsters, crabs, fish and horseshoe crabs. Weekly-based themes and activities. Open 10-4 daily Memorial Day to Labor Day each year. General Admission - $4, Children under 3: Free
Fort Adams
VISIT WEBSITE
LOCATE ON MAP
Fort Adams is a sweeping expanse of land on the ocean surrounding an old fort built in 1824. A great place for a seaside picnic, some frisbee or any other outdoor activity on grass. SAIL NEWPORT is also located here and offers small sailboats for rent and sailing lessons on Newport harbor.
Norman Bird Sanctuary
583 Third Beach Road
Middletown RI (401)846-2577
VISIT WEBSITE
LOCATE ON MAP
Just behind 2nd and 3rd Beach in Middletown lies a 450-acre wildlife refuge offering over 7 miles of hiking trails. Whether you bring the kids for a serious hike in the forest and up onto Hanging Rock overlooking the beach or just want to walk around, visitors will enjoy this nature preserve. Children will especially like the animals and educational offerings that you'll find in the farm-like setting.
Sachuest Point National Wildlife Refuge
Middletown, RI
VISIT WEBSITELOCATE ON MAP
Adjacent to 2nd Beach in Middletown is a finger of land that juts out into the ocean offering hiking trails, educational programs and plenty of opportunties to see wildlife on its 2.5 mile loop around. See owls, fox, rabbit and shore birds on your walk. Very easy hiking for the whole family.
Ryan Family Amusement Center
266 Thames Street
Newport RI (401)846-5774

If the kids need a video arcade fix, head to Ryan's. In addition, they have games the "older kids" might enjoy, like old-fashioned skeeball.