Surfing has been a mainstay in Newport culture for many years. Consistently decent surfing conditions and quality gear have made it possible to surf 12 months of the year. The really spectacular waves come from tropical storms and hurricanes in the late summer and early fall. Even if the storms don't make landfall in the eastern United States, they are capable of bringing 10-15 foot swells from hundreds of miles offshore.

If you're new to either the ocean or surfing, your best bet is to take lessons from local experts. They have the equipment and training you'll need to get up on your board on Newport's coastline. These classes run all summer at various oceanfront locations, so it's really easy to get started.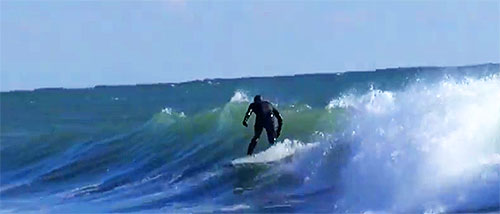 Newport's Local Surf Spots
Surfer's End- 2nd Beach, Middletown - Most of this beach is closed to surfing except for a small section- this area lies at the beginning of the beach and continues until the large rock that separates it from the rest of the beach. Waves are relatively small and consistent. There are no rocks in the water and is a good place to learn.
1st Beach, Newport - Beach is usually closed to surfers but after regular beach hours and in the off-season there's a few surfers out, especially before/after tropical storms skirt the coast. Generally smaller waves and a good place to get started.
Surf Lesson & Rental Shops in Newport
Rhody Surf
- private surf lessons, surf camp, stand-up paddleboard lessons
Island Sports
- rentals, surf camp
Average Newport, RI Temperatures

Month
Air
Temp
Ocean
Temp
January
38ºF
37ºF
February
39ºF
36ºF
March
46ºF
37ºF
April
55ºF
46ºF
May
64ºF
54ºF
June
73ºF
62ºF
July
78ºF
68ºF
August
78ºF
70ºF
September
72ºF
67ºF
October
63ºF
60ºF
November
53ºF
52ºF
December
43ºF
44ºF