Explore New Tastes and Seasonal Ingredients at Breakfast and Brunch
Being a tourist town, Newport has more than its share of traditional breakfast fare. But look a little closer and you'll find creative young chefs all over town preparing innovative and creative dishes for you to enjoy that take their tastes from restaurants all over the world. Sure, you can find traditional breakfast fare, but you can get that anywhere. In Newport, indulge in Portuguese, Irish and west-coast inspired dishes like bangers & mash, california eggs benedict and portuguese sweetbread french toast. For brunch, nothing tops a dish like fresh lobster and seasonal local seafood specialties.
We really like to encourage visitors to try Sunday brunch, since it can really open your eyes to new flavors and tastes, and usually costs a lot less than dinner for some of the same ingredients. If you add in a Sunday drink like a bloody mary you'll also find those are usually less expensive during the day too. What's not to love? So the next time you're in town, make it a plan to do a fun and creative breakfast or brunch.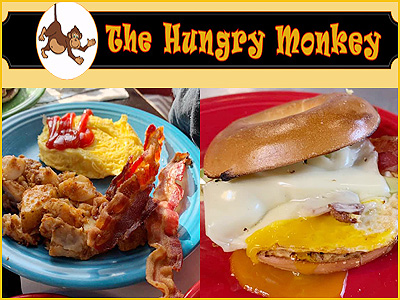 The Hungry Monkey
124 Broadway
Newport
(401)619-4433
VISIT WEBSITE
LOCATE ON MAP
A traditional breakfast and lunch joint serving everyone's favorites including omelettes, waffles, french toast, benedicts incorporating a host of local specialty items like bolo muffins and our local portuguese sausage called chourico. Yum, yum, and yum!
Coffee Grinder
33 Bannister's Wharf
Newport, RI (401)847-9307
At the very end of Bannister's Wharf, with adirondack chairs and beautiful views of the harbor. A great choice if location is more important than the meal or if you eat a light breakfast. Serving coffee, lattes, and baked goods/pastries. A fun place to start your day in Newport.
Corner Café
110 Broadway
Newport, RI (401)846-0606

Located next to the police station on Broadway, this place is a classic breakfast joint with great food at reasonable prices. Fun and innovative menu featuring multicultural foods and fresh ingredients. Consistently busy, especially on weekend mornings so try to get there early!
Franklin Spa
229 Spring Street
Newport, RI (401)847-3540

A Newport breakfast tradition. Get there early on weekends in the summer to avoid the rush and enjoy classic breakfast fare with daily specials. Fun diner-like atmosphere with friendly staff. Also serving lunch.
Gary's Handy Lunch
462 Thames Street
Newport, RI (401)847-9480

A local's hangout offering classic diner fare in a fun 50's retro environment. All your favorite breakfast items are here, and if you sleep a little later than expected, you can grab lunch instead. Check the daily specials- our favorite is the shepherd's pie.
Sunday Brunch in Newport RI
Caleb & Broad
, 162 Broadway, Newport, (401)619-5955. The chicken & biscuits with maple sausage gravy has a real following here, voted BEST BRUNCH IN RI!
VISIT WEBSITE
LOCATE ON MAP
Castle Hill Inn and Resort
, 590 Ocean Drive, Newport, (401)849-3800. (proper attire required)
VISIT WEBSITE
LOCATE ON MAP
Clarke Cooke House
, 26 Bannister's Wharf, Newport, (401)849-2900. A local favorite year-round but especially in the summer when the windows are out and you can view directly out on Newport Harbor.
VISIT WEBSITE
LOCATE ON MAP
Diego's
, 11 Bowen's Wharf, Newport, (401)619-2640. Both classic Sunday brunch favorites combined with Mexican specialties overlooking Newport Harbor - starting at just $6 with the purchase of a bar beverage - pretty hard to beat!
VISIT WEBSITE
LOCATE ON MAP
Fifth Element
, 111 Broadway, Newport, (401)619-2552. Funky and fun setting with open-air seating in the warmer months. Don't forget to try the sticky toffee pudding!
VISIT WEBSITE
LOCATE ON MAP