Despite Newport's reputation as an expensive and sometimes exclusive place to dine, there are an increasing number of family-friendly casual restaurants throughout Newport and its neighboring town of Middletown. From classic burgers to pizza to pasta and seafood, Newport's casual restaurants offer those seeking traditional meals a good value for their dollar in a relaxed environment. Always keep in mind that casual dining in Newport does not mean a step up from fast food. On the contrary, it simply means you can enjoy some great food in a laid-back casual atmosphere, with or without the kids in tow. For those picky eaters in your family, we've got you covered with chicken nuggets available on a lot of kid's menus around town too!
Over the years, the restaurant landscape here in Newport has changed some, and many new establishments have opened that cater more to the relaxed dining environment that visitors crave. Many restaurants have even gone the extra step of creating a kid's menu to show their patrons they really want families at their restaurants. The benefit to adults is that everyone in the family can enjoy what they like, with items like mac 'n cheese and chicken nuggets for the picky child eater and maybe a lobster or filet mignon for mom and dad. Everyone leaves happy and satisfied - mission accomplished!
For lunches on the go and maybe snacks at the hotel later, there is plenty of small take-out places in town, featuring everything from homemade soups and sandwiches to cupcakes, pizza and fudge. Check out this section on the site as well as the Lunch Section for more ideas on eating well and keeping the kids happy while visiting Newport.
Featured Casual Dining Restaurant in Newport RI
Midtown Oyster Bar
345 Thames Street
Newport, RI
(401)619-4100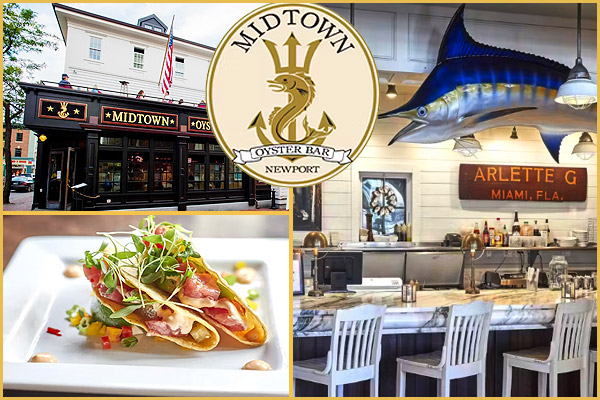 Featuring Newport's largest raw bar
Serving lunch and dinner daily, Sunday brunch
Focus on fresh seafood, coastal favorites and classic decor throughout
Located directly in the center of town with outdoor seating on the 2nd and 3rd floors for great people watching and views of the harbor
Available for private parties, corporate functions, rehearsal dinners and special events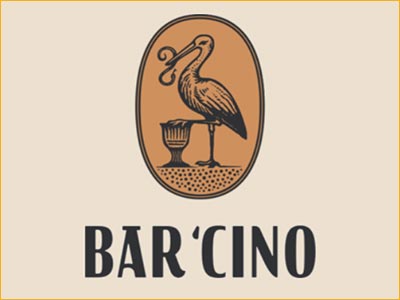 Bar'Cino
22 Washington Square
Newport, RI (401) 619-8201
VISIT WEBSITE
LOCATE ON MAP
Relatively new to the Newport scene is Bar'Cino, a cozy Italian getaway right in the heart of Washington Square in downtown Newport. The menu is Tuscan-inspired and feels updated, featuring local ingredients like seafood, chicken, artisan pizzas and pasta. The space is welcoming and would be ideal for a date or friends getting together to share great wine and food. Highly recommended!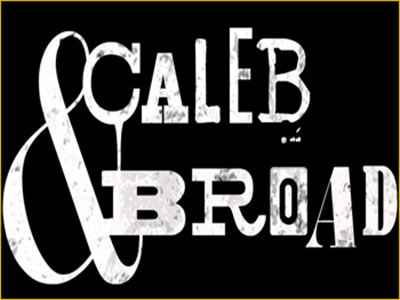 Caleb & Broad
162 Broadway
Newport, RI (401) 619-5955
VISIT WEBSITE
LOCATE ON MAP
This restaurant/bar features tradtional American fare with a new twist in a friendly and funky tavern-like atmosphere. A large wrap-around bar with intimate booths throughout make this establishment an easy choice for lunch, dinner or brunch on the weekends. A really well-rounded menu of delicious items well-prepared in a fun and cozy environment. Fun bar crowd featuring indoor/outdoor seating during the warmer months.
Mondays- all entreés just $10; Tuesdays- ½ price bottles of wine!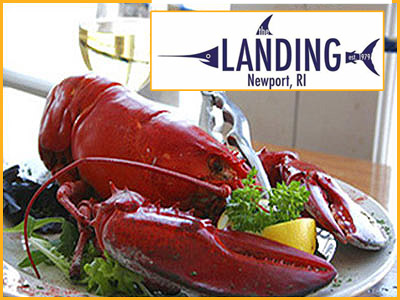 The Landing Restaurant & Bar
30 Bowen's Wharf
Newport, RI (401)847-4514
VISIT WEBSITE
LOCATE ON MAP
When nothing but the best waterfront views in Newport will do, The Landing is definitely the place. With a casual family restaurant atmosphere, The Landing has 4 separate dining areas(2 inside, 2 outside), an outside bar overlooking Newport Harbor and a varied menu from lobster to steak to clamcakes & chowder. Also available for private parties and rehearsal dinners.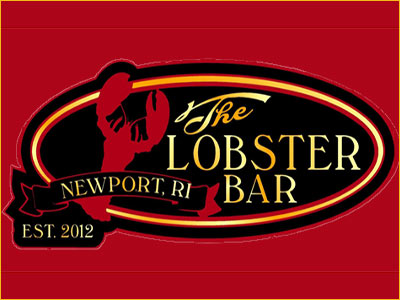 The Lobster Bar
31 Bowen's Wharf
Newport, RI (401)619-2890
VISIT WEBSITE
LOCATE ON MAP
When it comes to fresh lobster and seafood it doesn't get any closer than this. This new restaurant and bar located right on a working fishmen's wharf gives 180 degree views of Newport Harbor and features seafood from its neighbor, Aquidneck Lobster Company. Arguably one of the best views of Newport Harbor and true New England waterfront dining atmosphere. A fun place for the whole family to sit back and experience coastal New England.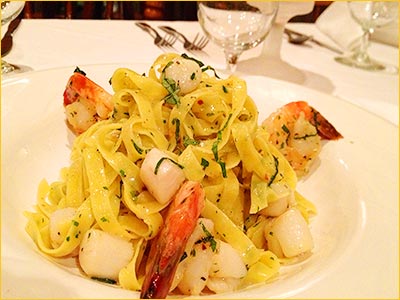 Lucia Italian Restaurant & Pizzeria
186B - 190B Thames Street
Newport, RI(401)846-4477 / (401)847-6355
VISIT WEBSITE
LOCATE ON MAP
Located downtown across the street from Brick Market Place. The food is the real-deal - real Italian food made by real Italians. A casual setting for lunch with casual fare, and a more formal setting with linen tablecloths and cozy atmosphere for dinner, with traditional and innovative North Italian cuisine. Featuring pasta, chicken, veal, seafood, pizza, large vegetarian selection and more.... Take advantage of the early dining specials available in the beginning of the week during the winter months (Nov-Apr).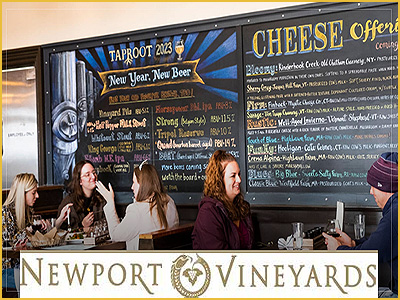 Newport Vineyards - Taproot Brewing
909 East Main Road
Middletown, RI(401)848-5161
VISIT WEBSITE
LOCATE ON MAP
Located just a couple miles from downtown Newport and set in a real working vineyard, Taproot Brewing offers visitors a delicious local farm to table experience. Their seasonal menus offer snacks, appetizers, sandwiches, pizza and home-made desserts fresh from their bakery. A great escape from the hustle and bustle of Newport, relaxing amongst the countless acres of a beautiful vineyard. Highly recommended!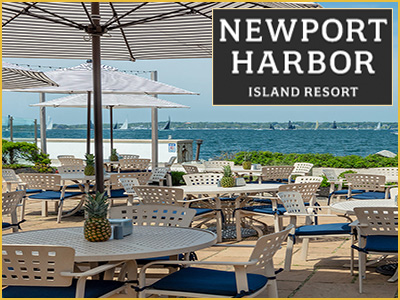 The Pineapple Club - Newport Harbor Island Resort
1 Goat Island
Newport, RI (401) 851-3340
VISIT WEBSITE
LOCATE ON MAP
OPEN SEASONALLY: Mid May - September

For real al fresco dining and phenomenal views of the Newport Bridge, The Pineapple Club is the place. A little off the beaten path at the rear of the Newport Harbor Island Resort property on Goat Island, the outdoor bar and grille overlooks the Goat Island lighthouse and offers sweeping views the Newport Bridge. Casual fare including the freshest seafood raw bar, locally-grown produce, salads, sandwiches, cocktails and frozen drinks. Listen to live entertainment or wander over to our outdoor fire pit where the kids can make S'mores. Helpful tip: water taxis are plentiful, inexpensive and a fun way to get out to Goat Island from the downtown wharves! Truly one of Newport's best kept secrets!
Salt Water Restaurant - The Newport Harbor Hotel & Marina
49 America's Cup Avenue
Newport, RI (401)847-9000
(800) 955-2558
VISIT WEBSITE
LOCATE ON MAP
Situated in the middle of Newport on the harbor, Salt Water is arguably one of the best places to dine harborside in Newport. Serving breakfast, lunch and dinner, the restaurant offers satisfying fresh local seafood favorites, delicious sandwiches and burgers and its all beside one of the best views in Newport. Whatever the season, Salt Water is worth a stop while you're in town, even if you're not staying at the hotel. Fun and lively atmosphere featuring live music on the enclosed and heated outdoor patio during the warmer months.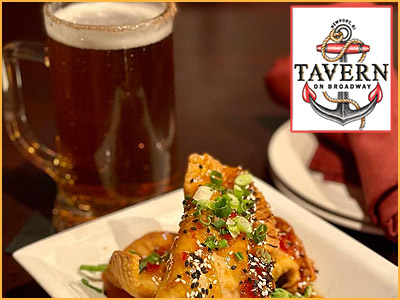 The Tavern on Broadway
16 Broadway
Newport, RI (401) 619-56750
VISIT WEBSITE
LOCATE ON MAP
This place does the classic tavern just right! Good food, good spirits and a friendly atmosphere keep this restaurant and bar busy year-round. A local's favorite, The Tavern serves up a great raw bar, appetizers, sandwiches, pizza and entrees that will keep you coming back for more!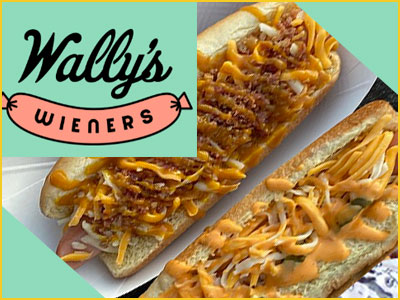 Wally's Wieners
464 Thames Street
Newport, RI (401) 236-1760
VISIT WEBSITE
LOCATE ON MAP
This family-friendly hot dog joint is getting a lot of attention these days- that's because it's not just dogs, offering a great selection of appetizers, burgers and salads to fit any taste. Located in the heart of Newport on Thames Street, Wally's is just a fun place to grab an easy lunch or dinner with friends or family. Breakfast, lunch and dinner served daily. A large bar offers their signature espresso martinis and great people-watching on Thames Street!