People are now coming to Newport just to experience its fine dining in recent years. Newport has really come into its own as a culinary destination for those seeking a special dining experience, and many visitors plan their trips to Newport around their favorite restaurants in town. The fact that Newport sits on prime oceanfront with access to the freshest seafood in the northeast makes the Newport experience that much more special. These days, the best restaurants in Newport RI are found throughout the city, from the classic waterfront seafood and steak houses to lively bistros and ethnic restaurants.


Featured Fine Waterfront Dining in Newport RI
The Restaurant - Newport Harbor Island Resort
1 Goat Island
Newport, RI
(401)849-2600
The Restaurant at Newport Harbor Island Resort is very reminiscent of a modern steak house, with a dash of fresh seafood specialties. Lobster gnocchi, oysters on the half shell, and an 18oz Cowgirl Ribeye are just some of the mouth-watering options on the menu. Arguably one of the best locations in Newport on Goat Island, with breathtaking views of Newport Harbor and the historic Point Section of the city. Serving breakffast, lunch and dinner nightly.
Waterfront dining establishments still dominate the fine dining landscape in Newport, but there are just as many smaller, more intimate restaurants that have popped up in Newport in recent years. Most notable of these locations is Broadway, Newport's main thoroughfare into the downtown wharf area. Even Newport's area hotels have gotten into the restaurant game, upping the ante with excellent chef-inspired menus that rival those on Newport's waterfront. Overall, you're never more than a stone's throw away from some spectacular food, and area chefs continue to keep pace with the offerings of much larger cities like Providence, Boston and New York.
Johnson & Wales University in Providence is producing talented chefs out of its culinary program each year. These young creative chefs are eager to make a mark on the dining scene, offering up the finest local Newport ingredients in new and inventive ways. They are redefining what fine dining is, and the upscale yet funky atmospheres you find in many Newport restaurants these days complete the ultimate dining experience.
You could easily spend a week or more just sampling all of the local fare that Newport has to offer. So make dining a deliberate part of your experience in Newport, and not just an essential part of travel. You won't be disappointed!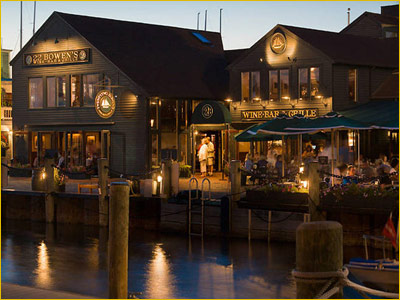 22 Bowen's Wine Bar & Grille
Bowen's Wharf
Newport, RI (401)841-8884
VISIT WEBSITE
LOCATE ON MAP
Newport's only certified Angus beef steakhouse. Expect to find a good selection of seafood including raw bar offerings and some of the best steak in town! Dining/bar outside on the patio in the summer. Some of the best waterfront views in Newport. Reservations recommended.
Castle Hill Inn
590 Ocean Drive
Newport, RI (888)466-1355
VISIT WEBSITE
LOCATE ON MAP
Our pick for best sunset drink with adirondack chairs on a big sloping lawn overlooking Castle Hill Lighthouse and Newport Harbor. Fine dining inside with a great selection of local seafood and steaks. A top spot to impress a date or have an anniversary dinner. The view is simply the best in Newport... proper dress required.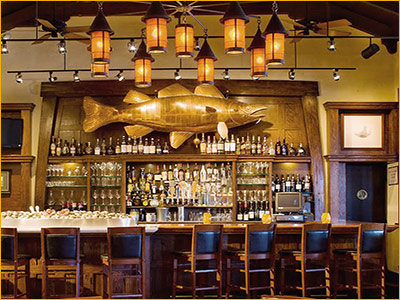 The Mooring Restaurant
Sayer's Wharf
Newport, RI (401)846-2260
VISIT WEBSITE
LOCATE ON MAP
One of only a couple of restaurants located directly on the water. Great views of the marina complement the seasonal seafood and steak specialties on the dockside patio. Relax outside harborside in the summer or cozy up to the fire on a warm winter's night. Either way, a great place to spend the evening. A Newport tradition for many years!