Having coffee and dessert at a different restaurant can be a fun way to see more than one restaurant in a night, and you can take a little break between the two for a walk or window shopping. A stroll down any of the main streets in town will lead you to an abundance of cafes and restaurants, each with their own take on dessert. We encourage you to explore as many as possible, and know that you'll probably find a new favorite along the way!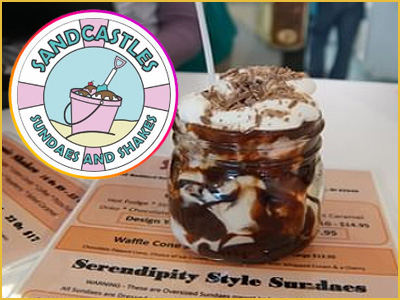 Sandcastles Sundaes & Shakes
225 Goddard Row
Brick Market Place
Newport, RI (401) 846-1020
VISIT WEBSITE
LOCATE ON MAP
If it's outrageous sundaes and shakes you crave, then Sandcastles is the place! A new addition to the Newport scene, this centrally-located shop serves up serendipity-style sundaes and legendary milkshakes. Flavors run the range from vanilla to cotton candy and you can top your creation with everything from salted caramel to cakes, pies and brownies!
Clarke Cooke House
Bannister's Wharf
Newport RI (401)849-2900

Open air restaurant in summer featuring a good selection of after-dinner drinks and dessert overlooking the harbor.
Cupcake Charlie's
143 Swinburne Row
Newport RI (401)848-2253

Located at the end of Brick Market Place in downtown Newport, RI, this dessert shop is an easy stroll from many downtown restaurants.
Cold Fusion Gelato
389 Thames Street
Newport RI (401)849-6777

Enjoy Italy's famous version of ice cream while strolling along the harbor after dinner. The flavors are numerous and authentic, a real treat for the whole family. If you've never tried it, you're missing out!
Empire Tea & Coffee
22 Broadway
Newport RI (401)619-1388

Just off Washington Square, this establishment offers up a great selection of teas, chai and hot/cold food items.
Starbucks Coffee Company
212 Thames Street
Newport RI (401)841-5899

Just off Queen Anne Square in the heart of Newport, this tried and true coffee house delivers consistently good coffee, tea and treats well into the evening hours.